'Harry Potter' – Monday Box Office Winner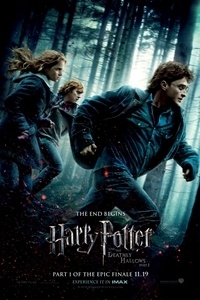 First Place – Warner Bros.' 'Harry Potter and the Deathly Hallows, Part 1' – For the eleventh straight day the film is on top of the box office chart with $2.3 million on Monday thus bringing the domestic total to $231.4 million.  After a franchise high opening weekend of $125 million, the film has been a total winner day after day as it continues to draw huge audiences.
Second Place – Disney's 'Tangled' –  $1.7 million for Monday gives this PG-rated family favorite a strong second place finish and after six days of release the 3-D animated re-telling of Rapunzel has a domestic total of $70.5 million.
Third Place – Sony's 'Burleque' – Cher and Christina
dance their way into the third spot with $876,247 for Monday and $18.2 million after six days in theatres.
Daily Box Office Top 12 Movies for Monday, November 29, 2010:
| | | | | |
| --- | --- | --- | --- | --- |
| Movie Title | Monday Gross | Theatres | Per-Theatre Average | Domestic Total |
| 1. Harry Potter 7 | $2.3M | 4,125 | $567 | $231.4M |
| 2. Tangled | $1.8M | 3,603 | $492 | $70.5M |
| 3. Burlesque | $876k | 3,037 | $289 | $18.2M |
| 4. Love and Other Drugs | $701k | 2,455 | $286 | $14.6M |
| 5. Faster | $601k | 2,454 | $245 | $12.6M |
| 6. Unstoppable | $588k | 3,183 | $185 | $61.0M |
| 7. Due Date | $477k | 2,555 | $187 | $85.3M |
| 8. Megamind | $412k | 3,411 | $121 | $130.6M |
| 9. The Next Three Days | $323k | 2,564 | $126 | $14.7M |
| 10. Morning Glory | $229k | 2,441 | $94 | $26.6M |
| 11. 127 Hours | $133k | 293 | $455 | $4.5M |
| 12. Fair Game | $92k | 396 | $232 | $6.0M |
*Monday daily box office numbers provided by Hollywood.com Box Office