'Harry Potter' Strong at Friday Box Office!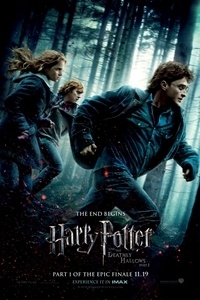 After posting the third biggest midnight gross of $24 million, Warner Bros. Harry Potter and the Deathly Hallows, Part 1 went on to earn a magical $61,150,000 in its first full day of release in 4,125 theatres.  This is the fifth biggest single-day gross in box office history.
With the biggest weekend debut of any 'Potter' movie now assured (2005's Goblet of Fire set previous high of $102.7M), the first part of the final chapter in the decade long franchise is already a certified box office hit.  With a single-day gross that many films would be hard-pressed to earn in a single weekend, 'Harry Potter' continues to weave his spell over an adoring fan base.
Click here for a chart of Top Single-Day Grosses
Click here for our Midnight Potter Madness Story
Click here for our 'Potter' Weekend Preview Story
and finally, Click here for 'Harry Potter' Franchise Stats
Here are the top single-day grosses as compiled by Hollywood.com Box Office:
TOP SINGLE-DAY MOVIE GROSSES OF ALL-TIME               
RANK    Day of Release    Day of Week    Date    Single-Day Gross
    THE TWILIGHT SAGA: NEW MOON (SUMMIT ENT.) – Opened 11/20/09           
1    1    Friday    11/20/2009    $72,703,754
    THE TWILIGHT SAGA: ECLIPSE (SUMMIT ENT.) – Opened 06/30/10           
2    1    Wednesday    6/30/2010    $68,533,840
    THE DARK KNIGHT (WARNER BROS.) – Opened 7/18/08           
3    1    Friday    7/18/2008    $67,165,092
    TRANSFORMERS: REVENGE OF THE FALLEN (PARA) – Opened 6/24/09           
4    1    Wednesday    6/24/2009    $62,016,476
    HARRY POTTER AND THE DEATHLY HALLOWS, PART 1 (WARNER BROS.) – Opened 11/19/10           
5    1    Friday    11/19/2010    $61,150,000
    SPIDER-MAN 3 (SONY) – Opened 5/4/07           
6    1    Friday    5/4/2007    $59,841,919
    HARRY POTTER AND THE HALF BLOOD PRINCE (WARNER BROS.) – Opened 7/15/09           
7    1    Wednesday    7/15/2009    $58,175,412
    PIRATES OF THE CARIBBEAN: DEAD MAN'S CHEST (BV) – Opened 7/7/06           
8    1    Friday    7/7/2006    $55,830,600
    SPIDER-MAN 3 (SONY) – Opened 5/4/07           
9    2    Saturday    5/5/2007    $51,336,732
    IRON MAN 2 (PARAMOUNT/MARVEL) – Opened 5/7/10           
10    1    Friday    5/7/2010    $51,239,677
    STAR WARS: EPISODE III – REVENGE OF THE SITH (FOX) – Opened 5/19/05           
11    1    Thursday    5/19/2005    $50,013,859
    THE DARK KNIGHT (WARNER BROS.) – Opened 7/18/08           
12    2    Saturday    7/19/2008    $47,650,240
    SHREK THE THIRD (PARAMOUNT) – Opened 5/18/07           
13    2    Saturday    5/19/2007    $47,077,497
    IRON MAN 2 (PARAMOUNT/MARVEL) – Opened 5/7/10           
14    2    Saturday    5/8/2010    $45,776,170
    X-MEN: THE LAST STAND (FOX) – Opened 5/26/06           
15    1    Friday    5/26/2006    $45,102,265
    SHREK 2 (DREAMWORKS) – Opened 5/19/04           
16    4    Saturday    5/22/2004    $44,797,042
    PIRATES OF THE CARIBBEAN: DEAD MAN'S CHEST (BV) – Opened 7/7/06           
17    2    Saturday    7/8/2006    $44,443,225