'Harry Potter' Tangles with Thanksgiving Newcomers
Harry Potter set to tangle with four newcomers for Thanksgiving Box Office Supremacy
Typically one of the most important box office weekends of the year, Thanksgiving offers moviegoers a chance to see new releases, finally see that potential Oscar contender or catch up with films they've wanted to see but simply haven't had the time. This year offers a veritable Thanksgiving feast of choices with last week's number one film Warner Bros.' Harry Potter and the Deathly Hallows, Part 1 certain to lead the charge with a minimal second weekend drop and a likely $70 million for the weekend and well over $80 million for the five day Wednesday through Sunday time-frame.  With IMAX enhanced revenues, by the end of the weekend a 10-day total of over $220 million is in the cards for young Mr. Potter. 
On Wednesday Potter 7 led the box office with $14,465,000 and after six days of release has earned $158,532,000 in domestic revenue.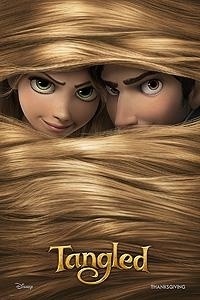 Disney is always a traditional family favorite during the holidays and this year will be no exception with the 3-D release of the animated fairy tale Tangled which is likely to draw crowds young and old to the tune of $30 million for three-day portion of the weekend.  This updated story of Rapunzel will likely earn in the $50 million plus range for its first five-days as its appeal to families should be strong throughout the extended Thanksgiving holiday.
On Wednesday Tangled came in second with $11,600,000 in 3,603 theaters in its debut –  a very strong bigger-than- expected showing! 
Check out our exclusive 'Tangled' themed comic strip from Francesco Marciuliano.  Francesco writes the internationally-syndicated comic strip "Sally Forth" and the webcomic "Medium Large." He was the head writer for the PBS series "SeeMore's Playhouse," for which one of his episodes won two 2007 Daytime Emmys. He currently writes for the Onion News Network.

Sony's Burlesque brings two titans of the music scene together as Cher and Christina Aquilera share the silver screen in this story of a small town girl who comes to Los Angeles to work in a burlesque club run by a veteran of the scene.  With appeal to those looking for a musically-themed film with risqué dance scenes and visual pageantry, "Burlesque" should shimmy through the weekend with around $15 million and around $20 million for the Wednesday through Sunday period.
On Wednesday Burlesque danced into third in its debut day with around $2.8 million in 3,037 theaters.
Paramount's Megamind is still a major factor with families and kids for the holiday weekend.  The film has been a powerhouse since its debut on November 5 and a 3-D enhanced revenue total of $115.6 million to date.
On Wednesday Megamind took fourth place with around $2.7 million in 3,779 theaters.
Of course no holiday weekend would be complete without and action film for the guys and a romantic comedy for the girls and Fox's Love and Other Drugs and CBS Films' Faster are going to duke it out for box office dominance.  Both films are rated R and both have strong appeal to their respective target audiences.
Anne Hathaway and Jake Gyllenhaal will definitely make their mark with younger women who cannot get enough romance over Thanksgiving and their reluctant, but accommodating dates with the aptly titled Love and Other Drugs. Twentieth Century Fox is likely to find itself with over $10 million for the weekend and a romance driven $15 million for its Wednesday through Sunday debut.
On Wednesday Love and Other Drugs came in fifth as it earned $2.2 million in its first day of release in 2,366 theaters.
Fox's Unstoppable is still generating excitement at the nation's theaters for the Thanksgiving movie-going action crowd and the Denzel Washington film directed by Tony Scott is still pulling like a freight train as it approaches $50 million in domestic revenue.
On Wednesday Unstoppable came in sixth with around $1.9 million in 3,209 theaters and thus brings its total to $46.45 million.
Faster features action "go to" guy Dwayne Johnson in this action crime drama that should earn around $12 million for the weekend portion and around $16 million for the first five days as it draws all the young dudes looking to avoid Rapunzel, Burlesque dancers, hopeless romantics and all things less manly at the multi-plex.
On Wednesday Faster debuted in seventh place with $1,581,800 in 2,454 theaters.
This will be one of the stronger performing Thanksgiving weekends in recent memory with virtually every genre being duly represented by wizards, princesses, dancers, heroes, lovers and lots of moviegoers with plenty of holiday induced time on their hands going to the movies.
Top 10 Movies – For Wednesday Only , November 24 (4 New Releases)
    Movie     Weekend     Total
1     Harry Potter and the Deathly Hallows, Part 1 (PG-13)     $14.5 M     $158.5 M
2     Tangled (PG)     $11.6 M     $11.6 M
3     Burlesque (PG-13)     $2.8 M     $2.8 M
4     Megamind (PG)     $2.7 M     $115.6 M
5     Love and Other Drugs (R)     $2.2 M     $2.2 M
6     Unstoppable (PG-13)     $1.9 M     $46.4 M
7     Faster (R)     $1.6 M     $1.6 M
8     Due Date (R)     $1.4 M     $76.0 M
9     The Next Three Days (PG-13)     $750k     $8.7 M
10     Morning Glory (PG-13)     $600k     $21.6 M