Has Mixtape Culture Vanished Forever?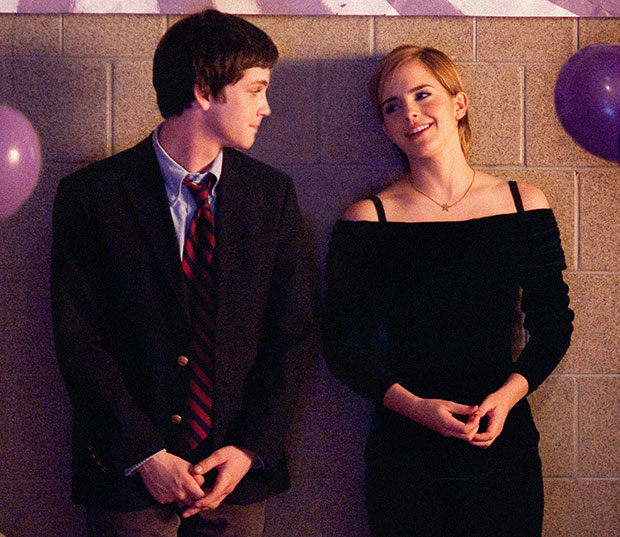 Pop in a fresh cassette tape. Start the record player/radio/CD player. Hit "Play" and "Record" when the time is right to ingrain the track onto the cassette's magnetic tape. Soak it in (but don't lose track of the tune's final moments). Hit "Pause" — it's time for the next song. Repeat until perfectly curated playlist is complete.
For Charlie, the lead character of The Perks of Being a Wallflower, and many young people of the '80s and '90s, crafting a mixtape was more than just compiling popular songs onto a shareable slab of media. The process, both in physical creation and emotional investment, was delicate, the balancing of song tempos and the timing of every button pressed making or breaking the listening experience. As culture critic and CalArts professor Matias Viegener suggests in the book, Mix Tape: The Art of Cassette Culture, "The mix tape is a list a quotations, a poetic form in fact: the cento is a poem made up of lines pulled from other poems. The new poet collects and remixes."
When Charlie gifts his romantic interest Sam a mixtape, a chill mix of "Asleep" by The Smiths, "Vapour Trail" by Ride, "Scarborough Fair" by Simon & Garfunkel, "A Whiter Shade of Pale" by Procol Harum, and more, it's done as a form of expression and communication. Mixtapes weren't just a pop culture staple, they were symbolic. In the recent film version of Perks, the momentous occasion of a mixtape transaction is on full display. The memorable depiction unearths a sad possibility: like the cassette tapes they're burned into, mixtapes might be a thing of the past.
Sharing is alive and well. The Internet has made sure of that, encouraging connectivity to the point that music swapping has bolted from friendly handoff to unmanageable, industry-destroying epidemic. The post-double tapedeck creations era saw computers step in with nifty CD technology. Then came Napstar, Kazaa, Limewire, and other programs that promoted instantaneous results over time-consuming importing. Any song could be pulled from the Web within a few minutes (yes, in the mid-2000s, it still took that long). As net speeds increased, so did iTunes Music Store, which emerged as the source for one-download wonders. Today, ownership isn't even a part of the music sharing equation. "Streaming" services allow a user to hear any song at any time — and even add it to a running playlist that can be shared with friends. According to representatives for Spotify, the streaming service plays host to 15 million active users who share over 900 million playlists compiled from their catalogue of 16 million tracks.
Curation thrives in pockets of the Internet like Spotify, but it's not a universal practice. While Spotify does not publicly release demographic numbers, the trends of current high schoolers and college stray from the popularity. In an informal poll of 100 kids ranging from Freshman to Seniors, conducted by Hollywood.com at a high school in Philadelphia, Penn., 77 percent said they primarily listen to music they don't own.

Their source? Forty-one percent said they used YouTube to stream their music, with 29 percent opting for the genre-generating streaming service Pandora, 10 percent purchasing music from iTunes, and a dwindling number utilizing Spotify and other music-centric sites. When asked how they share music with their friends, a significant portion of the group gave variations of a core response: "I don't share music."
"We don't really make mixtapes of playlists for each other," says high school Junior Sara Nestrowitz. "And I've never heard of Spotify before."
Matteo Atik, who just entered his Freshman year, firmly echos the sentiment: "I don't think online playlists or anything like that are shared." Users of all ages have flocked to the monolithic Facebook (and the social media juggernaut has poised itself as the only place you ever need to go on the Internet), but for high schoolers, it's more than just a way of staying in touch with friends or an outlet for casual gaming — it's where real pop culture discussions thrive.
Junior Nicole Minogue still talks music with her friends during the in-between moments of high school's hustle and bustle, but thanks to the mass availability of tracks, she's surprisingly aware that the experiences of listening and discovery are no longer communal. "Almost every teen nowadays downloads the MP3 file from websites such as YouTube," says Minogue. "This eliminates spending money for music, and I think this has led us to become more independent on each other for downloading music." Whereas a mixtape forced a listener to travel through the designed aural journey dictated by its creator, Web technology has enabled today's teens to pick and choose. Recommendations from friends are still coveted ("[We'll] notify each other about new CDs and singles, or new artists," says Mingoue), but the ease of access has eliminated the trust that goes hand and hand with a mixtape. "We'll talk different songs we've heard that we like and dislike. After that, we usually listen to the song and decide for ourselves whether or not we like it."
When placed side by side with the glow of a mixtape, the straightforward approach of posting videos on a Facebook wall looks culturally stale — the kind of devolution that would make Nick Hornby's High Fidelity protagonist Rob Fleming weep. But it comes back to nostalgia: Are "kids these days" vapid and culturally introverted, or are they expressing themselves in new ways? A random video or animated GIF collection has more worth than its surface reveals. Christine, a current college student and active user of the blog platform Tumblr, observes how online and offline lives are intertwined and communal. "[My friends and I] always end up coming around to the conversation, 'Have you seen this new video? You gotta check it out!' At which point we pull up a new browser and watch the YouTube video."
On the Internet, media blurs, and it allows young people to be even more creative in their communication. "Videos on YouTube are more than just music videos," says Christine. "Sharing your creativity is a lot easier, since that video is so popular because so many people like it/find it funny/find it interesting. The Internet allowed them to share even more than a physical mixtape would have ever allowed." A hit single, a three-year-old wailing, a cat caught in a paper bag — everything and anything can be found on the Web and it all means something to the people wielding it.
The age of gifting physical media isn't completely dead — Nestrowitz points to a common tradition between her friends of making mix CDs of "songs that relate to inside jokes" for whoever earns their driver's licenses — but in the short span of two decades, Charlie's act of professing love in a tangible form is near unrecognizable. There is hope for both the generation that clings to the Tao of Mixtapes and a young generation that finds their joy in "Like" buttons. Everyone's Mixtape is one of many websites attempting to recreate the magic of the curated compilation. Users assemble their own mixtapes with all the aesthetic flare of the '90s. No "Record"/"Play" button timing, but there is one catch: To make the mixtape, audiophiles have to use existing tracks they find on YouTube and other online locations. Not that different than what today's teens are doing — their mixtape just lacks a shiny exterior.
Follow Matt Patches on Twitter @misterpatches
[Photo Credit: Summit Entertainment; GonsoMadrid/flickr; bjornmeansbear/flickr; davitydave/flickr]
More:
Ezra Miller: 'The Perks of Being a Wallflower' Was 'Transformative'
Mae Whitman Talks Love and Friendship on 'The Perks' Set
Does 'The Perks of Being a Wallflower' Film Do the Novel Justice?