Hathaway and Jackman Redefine 'Les Misérables' with On-Set Singing — VIDEO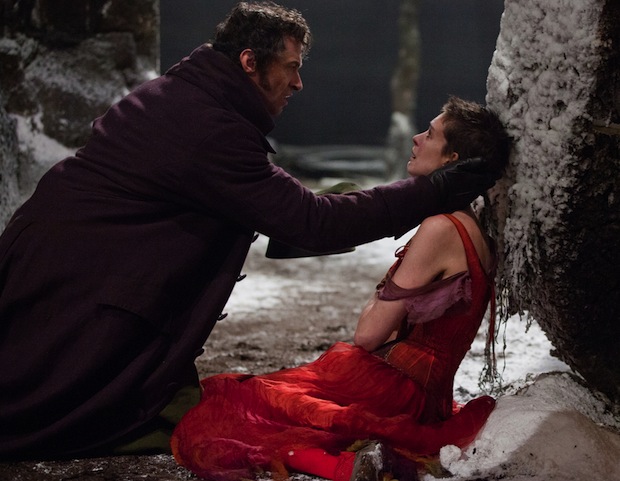 Unlike most musicals, Les Misérables is told almost entirely through song. Even smaller scenes that would normally be written with dialogue and lead into a flashy musical number are orchestrated with melodic pacing. The Broadway classic is more opera than standard show.
That makes bringing it to screen more difficult (and perhaps, why no one has ever attempted it in the show's 27 year history). Most musical films bring in their star-studded ensembles to record the numbers months prior to actually shooting the movie. When they're on set, they lip sync and dance to the pre-recorded tunes. That makes the numbers less performance-driven — the musical scenes are being shaped in a recording studio instead of in the moment.
That's why this year's Les Misérables is taking a different, unprecedented approach.
Director Tom Hooper (Oscar-winner for The King's Speech) hired a cast who can actually sing, including Hugh Jackman, Anne Hathaway, Amanda Seyfried, Eddie Redmayne, and Russell Crowe. (Need proof? Dig up old Crowe's 30 Odd Foot of Grunts albums.) Then, he tasked them with performing live on set — among the lights, the cameras, and the action. With a piano off-set feeding the accompaniment into their earpieces, the actors create their own pace in tune with the emotional scenes they're playing out.
We'll find out if Hooper's experiment was successful when Les Misérables hits theaters December 25, 2012, but in this new behind-the-scenes featurette, we're given our first glimpse of the stars in action. The approach is uniquely faithful to the source material and extraordinary to see. When was the last time you saw a movie musical that could be described as visceral?
Follow Matt Patches on Twitter @misterpatches
[Photo Credit: Universal Pictures]
More:
'Les Miserables': A Fan Breaks Down the Trailer
'Les Miserables' Trailer: A Movie Musical Worthy of Comic Book Blockbusters