We Got 2 New 'Hercules' Trailers Today, But They're Wildly Different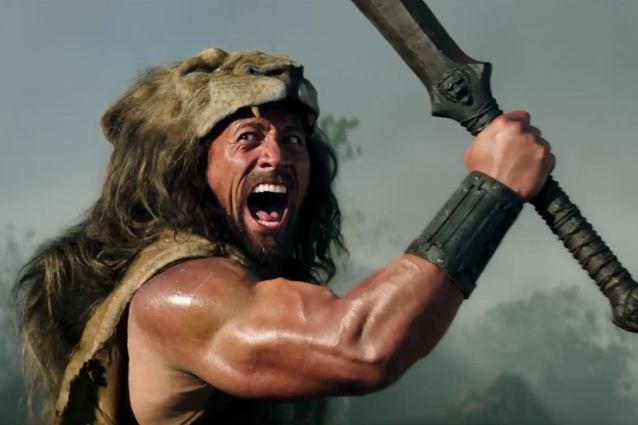 YouTube/IGN, MGM/Paramount Pictures
For those looking for another glimpse of The Rock in Brett Ratner's upcoming Hercules, you're in all sorts of luck. There are two different versions of the first full-length trailer for Hercules floating around the Internet today. Both versions feature a burly version of Hercules played by the Dwayne Johnson, with traps bigger than mountains and abs cut like craggy Greek cliffs. But beyond the rock's demi-god physique and similar encounters with ancient beasts and hellish creatures, differences start to emerge between the two. While much of the narrative and action is the same, the tone of the two clips are pretty different, and seeing two versions of the same film has us wondering which one will be more indicative of the final product come July.
This first version of the trailer takes itself rather seriously. Here, a grieving Hercules seeks justice after the gods murder his family. This trailer is a tale of vengeance, and Hercules is given a darker agency. The music that swells beneath the action is ominous; even a mournful version of a Queens of the Stone Age song finds its way all the way back to Ancient Greece. Hercules' struggle has extra gravity, but there's a certain disconnect between the trailer's tone and the visuals. Slo-mo boar killing and a hero with a lion for a hat probably shouldn't be taken so seriously, and a good joke or two would make everything feel more balanced here.
Here, the second version of the trailer seems a lot more fun. This take doesn't feature Hercules' family being murdered, and all mentions of vengeance and justice are left at the wayside. What's left is a Hercules film that feels more bracing, perhaps even swashbuckling. We are also more thoroughly introduced to the supporting players, most notably, Ian McShane, a soothsayer who has foreseen his  death, and embraces his coming demise with open arms, and much to Hercules' annoyance, embracing death means willfully standing in the path of flaming spears. This version seems a lot more self-aware at how ridiculous the story really is, and is willing to crack jokes at itself and the source material. The other trailer feels like it's missing the camp that this version is serving up. We're hoping the full-length film veers closer to the tone of this second trailer.
Which version of Hercules would you rather see?