'Hick': Chloe Moretz is Way Too Young to Be Doing All This Stuff! — TRAILER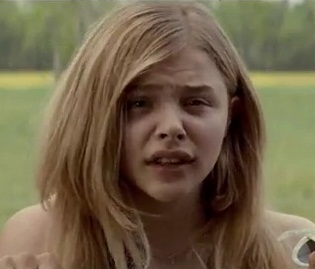 The below trailer for Hick looks to be the latest display of Chloë Moretz's very mature acting talent. Despite this, it is hard to forget that the actress was born in 1997. That's the same year Titanic came out. That's three years after the Doug left Nickelodeon. She was one when Dawson's Creek premiered and five when Spider-Man hit theaters. The first James Bond movie she'd have been old enough to remember is Die Another Day, and her only Batmen have been Val Kilmer and Christian Bale. The girl is young.
And yet, her career thus far has been marked by unquestionably adult roles. Her breakout performance in Kick-Ass had the young star brutally murdering a heap of hulking bad guys, and her recurring 30 Rock role has her facing off with Alec Baldwin, a spiritual peer despite being 40 years her senior, in a race for the executive chair over NBC. But Kick-Ass and 30 Rock are fantasy worlds; the removal from reality allows for Moretz's onscreen actions to be taken with a grain of salt and appreciated as whimsy. Hick, however, looks much grittier, and, as a result, much more frightening.
The talented Moretz plays a runaway who leaves her disastrous Nebraska living environment to embark on a quest for the glitz of Las Vegas, with a gun in hand. She wields her weapon, tossing threats and involving herself in situations that a full grown bodybuilder would be wise to avoid; dangerous company includes Blake Lively, Eddie Redmayne, and Moretz's 30 Rock adversary Baldwin. It might be uncomfortable to watch the young-in-real-life starlet get tangled up in this pit of corruption, but it is hard to deny that her talents for this sort of character are exemplary and that we should probably never cross her path.
More:
Chloe Moretz Offered Role in Carrie: Is She the Right Choice?
Rupert Grint and Chloe Moretz Join Beach Boys Biopic