Why Doesn't Anybody Want to Play Hillary Clinton?!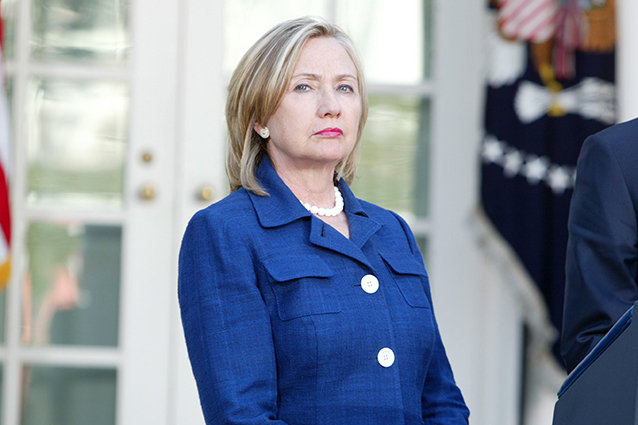 You'd think that nobody would turn away the chance to be a Yale graduate, United States Senator, Secretary of State, beloved meme, and premiere candidate for the 2016 presidency. But for some reason, nobody seems willing to take on the role of Hillary Clinton — a woman who has managed each of these achievements — in the developing biopic Rodham. A number of names have been thrown into the mix to play the political icon: Jessica Chastain, Carey Mulligan, Scarlett Johansson. All talented performers, each with her own checks in the Pros column for the embodiment of our former first lady. But none of 'em is gonna do it. And why? Well, we're not entirely sure.
Chastain was the first to pull out of the running, with reps stating that she was never officially approached for a chance at the role. Ditto for Johansson, the most recent forfeiture, as reported by The Huffington Post. And in the middle of these announcements came The Hollywood Reporter's revelation concerning Mulligan: a latecomer to the Hillary game and the only one of the bunch to have officially met with Rodham producers, she passed on the project. Is she crazy?
Granted, Mulligan wasn't exactly our top choice to take on the role, so we can't team our surprise with disappointment. But the opportunity to play one of the most influential women in modern American history? To live out the early days of a figure of change still helping to advance our society to points beyond what many thought they ever might reach? To get all those free pantsuits from wardrobe? We just don't understand the aversion, for any of these women.
At least for Chastain, it can't be political. The actress took on (and completely dominated) the razor sharp Zero Dark Thirty earlier this year. So as a thespian more than worth her salt, we're disappointed to hear that she isn't inclined to reach for Rodham's headlining position.
Of course, there are a handful of other duly capable actresses out there who might be interested in playing Hillary Clinton. A few more figures previously suggested include Reese Witherspoon and Amanda Seyfried, with the usual suspects of Jennifer Lawrence and Emma Stone being tossed around casually (E! threw Elisabeth Moss' name in there, which we find particularly enticing). We can't imagine that it'll be long before one of these prospects sweeps up the coveted character. But then again, we didn't even think it would take this long.
So what is it that is keeping these women from striving to occupy the Hillary role? Is it sheer intimidation? Concern over the weight carried by portraying such an important, dynamic figure? Or is it the script itself, which we know to be a little on the colorful side? Whatever the cause, we hope apprehensions are set aside. We'd love to see Hillary get her time in the spotlight, and we'd love to see someone with the right stuff take her there.
Follow Michael Arbeiter on Twitter @MichaelArbeiter | Follow hollywood.com on Twitter @hollywood_com
More:
10 Reasons 'Rodham' Will Never Get Made
Who Should Play Hillary Clinton?
Hillary Clinton Is Writing a Book
---
From Our Partners


Stars Pose Naked for 'Allure' (Celebuzz)


Which Game of Thrones Actor Looks Least Like His Character? (Vulture)