History Channel's 'The Bible' Headed for the Big Screen: A 'Christian' Shares What We Want to See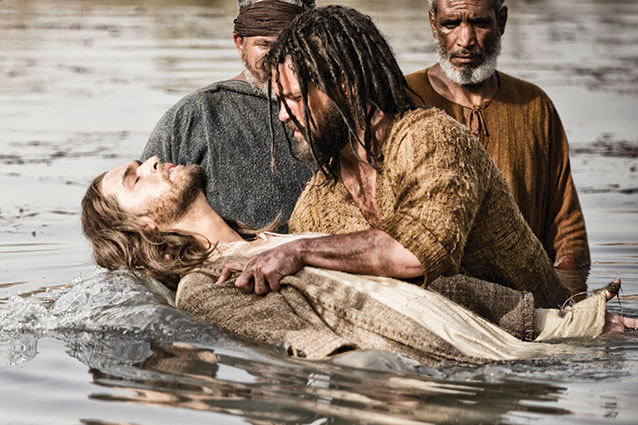 Among Jesus' many miracles? Creating ratings and box office gold from a 2,000-year-old book.
After its blockbuster five-week run on History Channel debuted to 13.1 million viewers and ended with 11.7 million, The Bible may be coming to a theater near year. Executive producer Mark Burnett tells The Hollywood Reporter that he's cutting a three-hour version of the miniseries, focusing solely on Jesus's life and ministry, for theatrical distribution. "We have many, many offers from theaters globally," Burnett said. He added that there may even be other Bible stories they'll film to sequelize his series. Those stories would appear "in the same world," according to Burnett, which sounds like the description of a studio franchise rather than a sacred text billions revere.
This news got us to thinking. What elements of the already-aired miniseries do we think are the most cinematic and worthy of making the big-screen jump? Here are our picks.
1. Obama Satan! — What's more cinematic than hiring an actor who looks like our president and having him tempt Jesus in the wilderness? It'll appeal to the 2016: Obama's America crowd and yet somehow still be less anti-Obama.
2. Hans Zimmer — He brought the same string-heavy urgency to The Bible that he brought to The Dark Knight Trilogy. So much so that I really expected narrator Keith David to say "The Jews will find they're not getting the Messiah they need, but the Messiah they deserve."
3. King Herod — The Bible's most intoxicating foray into bloated, Lynchian excess was its portrayal of Judea's Roman puppet king. He was first introduced wearing nothing but a massage towel, his back covered in leeches. Later we saw him eat without even bothering to wash the blood off his hands of the man he just killed.
4. Those Helicopter Shots of the Disciples — To convey the epic grandeur of the Greatest Story Ever Told you need to use the techniques of one of the most bankable franchises of the new millennium. And Mark Burnett did! He had Jesus leading his disciples across the Holy Land as if they were his very own Fellowship of the Ring.
New Things We Want to See:
1. More CGI Waves on the Sea of Galilee — When it comes to Jesus walking on water and calming the storm that threatens his disciples, Burnett needs to Perfect Storm that s**t.
2. A Salome Sexy Dance — Now that we're free of puritanical basic cable, we can add some sex back in, right? First up, we need to add Salome's dance for Herod Antipas that persuaded the king to kill John the Baptist. It was cut out in its entirety from Burnett's original version. At least give us the silver platter!
What do you think? Will you go see The Bible in its edited, roadshow form?
Follow Christian Blauvelt on Twitter @Ctblauvelt
More:
A 'Christian' Reviews 'The Bible': What Was Up With Obama Satan?
A 'Christian' Reviews 'The Bible': Revenge of Obama Satan!
---
From Our Partners:


Eva Longoria Bikinis on Spring Break (Celebuzz)


33 Child Stars: Where Are They Now? (Celebuzz)