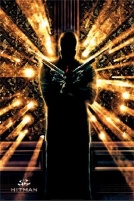 Source: Deadline New York
The bald bad-ass will be back! Deadline reports that 20th Century Fox has hired Spanish filmmaker Daniel Benmayor (Paintball, upcoming Bruc) to direct the sequel to their 2007 video-game-based action flick Hitman.
Whether or not star Timothy Olyphant will return is still unclear at this point, but he'll have to make a decision soon as the studio is looking to start production as early as this fall. Daniel Casey has written the most recent draft, which Kyle Ward was originally hired to write.
Made for about $30 million, the original film (directed by Xavier Gens) grossed about $100 million worldwide. Not too shabby for a flashy flick without any semblance of substance. Even if Fox can coax Olyphant back into the fold, there are oodles of hurdles for the creative team, which includes producers Adrian Askarieh, Alex Young and Chuck Gordon, to overcome. Without a coherent plot, the Hitman film franchise won't come close to churning out as many sequels as its interactive progenitor has.