Peter Jackson Answers 'Hobbit: Desolation of Smaug' Questions … from Stephen Colbert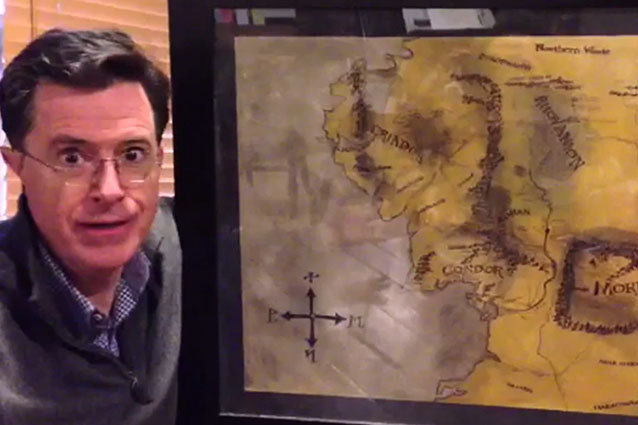 Think you're a Tolkien nerd? Think you know the linguistic intricacies of Quenya, or the true origins of the Orc race? Well, you're in good company: Peter Jackson, director of the Lord of the Rings trilogy, and presently one chapter deep in his delivery of a cinematic adaptation of The Hobbit, has called upon geeks far and wide to hit him with tough questions about his upcoming film, The Hobbit: The Desolaution of Smaug.
We don't doubt that entire races of Tolkienites flocked to the Internet to unleash their queries unto the filmmaker, but only a few voices were heard — perhaps, the nerdies voice of them all: Stephen Colbert, political satirist and not-so-secret Tolkien superfan, sent in a mind-numbingly elaborate question, probing Jackson about how he'll handle the depiction of the Elf race in Desolation of Smaug.
RELATED: Peter Jackson Reveals First 'Desolation of Smaug' Footage
Holding strong to his Colbert Report character's unwieldy bravado, Colbert challenged Jackson (as you can see in the video below) to honor the Elf race in all of its intricate glory. But Colbert wasn't the only notable name to chime in: Billy Boyd, The Lord of the Rings movie's own Pippin, also brought a question to the table.
Check out the video below to fill up on some good ol' Tolkien love.
Follow Michael Arbeiter on Twitter @MichaelArbeiter
[Photo Credit: Peter Jackson/YouTube]
---
You Might Also Like:


15 Oscar-Winning Nude Scenes


10 Insane 'Star Wars' Moments You Didn't Notice