Hollywood.com Roundtable: So You Need Katie Holmes to Get Naked in Winter & Jump in the Ocean?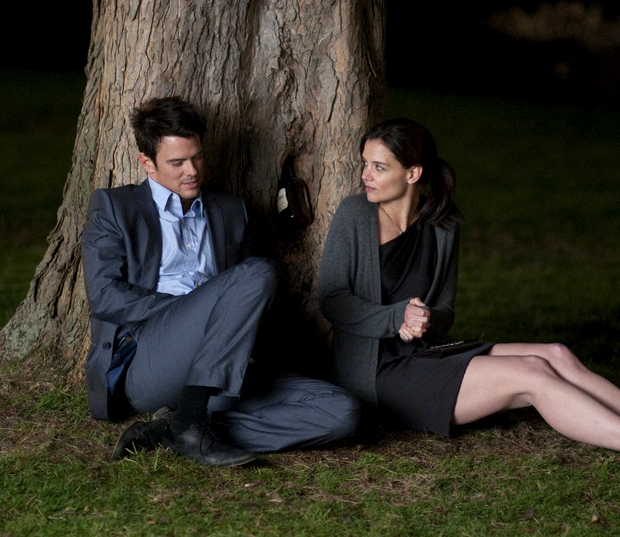 When it comes to things going terribly wrong on a movie set, it's not so much a matter of "if" as a matter of "when."
With so many moving parts — from the money to the actors to the minutiae concentrated on by the various craftsmen that put blood, sweat, and tears into making a film — a hurdle is bound to come along that throws a wrench into the well-oiled machine. What if the leading man is sick? What if the light in the location doesn't look the way everyone predicted? What if the generator powering the slew of giant lights suddenly burst into flames? What if you're in the middle of a desert and someone forgot to bring water?
All possible, all disastrous.
But that's where producers come in. They're fixers — the folks who assume there will be problems, then think on their toes to solve them. In the case of Riva Marker's film The Romantics, the issue was monumental. In the film (shot in 2009 and released in 2010), follows a group of college friends reunite after six years for a wedding. The clash of personalities has its ups and downs, but in the end the ensemble reconnects. In a moment of spontaneity and unfiltered fun, the six twentysomethings strip down naked and run into the ocean. Shooting the scene wouldn't be a huge issue, except that the film shot in December and featured talent like Josh Duhamel, Anna Paquin, and Katie Holmes, who at the time was the object of every paparazzi photographer's affection. How do you get this star-studded group to jump in the freezing cold water naked? Check out the exclusive video below to see Marker tell the tale and the rest of the Producer's Roundtable divulge a few of the harder moments of their careers.
Joining Hollywood.com Movies Editor Matt Patches for an exclusive roundtable discussion at New York's Haven Rooftop Bar at the Sanctuary Hotel are Mond (Martha Marcy May Marlene, Simon Killer), Sophia Lin (Take Shelter, Compliance), Michelle-Ann Small (Gun Hill Road, Kiss of Chaos), Riva Marker (What Maisie Knew, The Kids Are All Right), and Jared Goldman (The Magic of Belle Isle, The Wackness).
Watch Part Three of the interview below or watch the full version right now on RamblingOn.tv.
Follow Matt Patches on Twitter @misterpatches
[Photo Credit: IFC Films]
More:
Hollywood.com Roundtable: How Sundance Indie Hit 'Simon Killer' Shot in the Louvre… for Free!
Hollywood.com Roundtable: Producers Talk Killing Themselves for Someone Else's Vision