Hollywood.com Wants You to See 'Warm Bodies' Before Anyone Else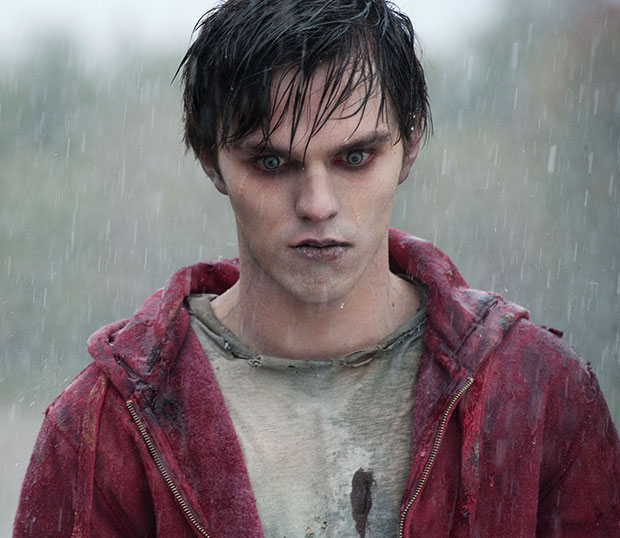 If you can't wait until Warm Bodies hits theaters nationwide Feb. 1, 2013, then listen up: Hollywood.com is sponsoring advance screenings of the romantic comedy zombie flick, and you're invited!
Warm Bodies, the adaptation of Isaac Marion's novel, directed by 50/50's Jonathan Levine, is about the aftermath of the zombie apocalypse. R (Nicholas Hoult) survives on human brains, absorbing the memories of his victims in the process. When he eats the brains of a suicidal teen, he becomes infatuated with his victim's girlfriend, Julie (Teresa Palmer). R rescues Julie from a horde of zombies, and their resulting romance sets in motion a sequence of events that might transform the entire world. Could their love bring R's undead heart back to life? Can the zombies be cured? Warm Bodies costars John Malkovich, Rob Corddry, and Dave Franco..
All you have to do is click on your city and register for a pass. Make sure you act fast, though: once a city has reached the RSVP limit, there will be a red circle with a strikethrough, meaning you're out of luck. You will need to print your pass and bring it with you to the screening for admittance, and take note: the screenings are on a first come, first served basis (tickets do not guarantee admission).
Check out where the closest screening is to you:
New York: Thursday, December 13th 7:00 PM
Los Angeles: Wednesday, December 12th 7:30 PM
Chicago: Wednesday, December 12th 8:00 PM
San Francisco: Thursday, December 13th 7:00 PM
Philidelphia: Thursday, December 13th 7:00 PM
Boston: Thursday, December 13th 7:00 PM
Washington, DC: Thursday, December 13th 7:30 PM
Atlanta: Wednesday, December 12th 7:30 PM
Houston: Thursday, December 13th 7:30 PM
Cleveland: Wednesday, December 12th 7:30 PM
Seattle: Wednesday, December 12th 7:30PM
Portland: Wednesday, December 12th 7:00 PM
Phoenix: Wednesday, December 12th 7:00 PM
Minneapolis: Thursday, December 13th 7:30 PM
Miami: Thursday, December 13th 7:30 PM
Denver: Wednesday, December 12th 8:00 PM
Orlando: Thursday, December 13th 7:30 PM
Kansas City: Thursday, December 13th 7:30 PM
San Diego: Wednesday, December 12th 7:00 PM
Follow Sydney on Twitter @SydneyBucksbaum
[Photo Credit: Summit Entertainment]
More:
Is 'Warm Bodies' the Zombie Answer to the End of 'Twilight'? — TRAILER
Watch Nicholas Hoult Be Sexily Dead in 'Warm Bodies' Image
New 'Warm Bodies' Trailer: Zombies Want to Know Kim Kardashian's Birthday Plans


Brad Pitt's On-Screen Style Evolution — PICS