Honey, Amanda Seyfried Shrunk Herself in New 'Epic' Trailer — TRAILER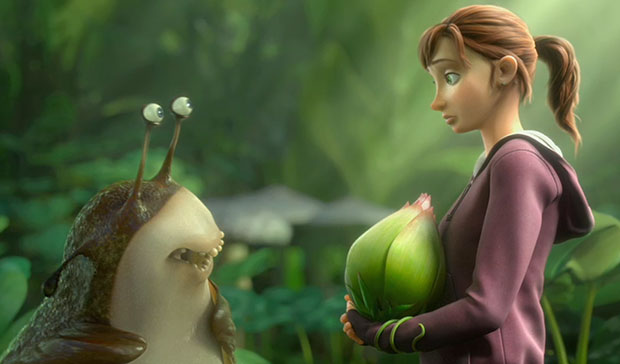 Honey Dad, I think I shrunk myself and now I'm in the middle of a war between the forces of good and evil in the woods! And there's a talking slug!
Welcome to the newest trailer for Epic, a 3D animated fantasy adventure film from the creators of Ice Age and Rio. Do you like talking creatures? Very small humans? Alternative universes where things unseen keep the natural balance of the earth in order? Soldiers who parachute with leaves? Then Epic will be, well, epic, to you.
Featuring a seeming super-cast that includes Amanda Seyfried, Christoph Waltz, Aziz Ansari, Colin Farrell, Beyonce Knowles, Jason Sudeikis, Judah Friedlander, Josh Hutcherson, Pitbull, Steven Tyler and Blake Anderson of Comedy Central's Workaholics, there is probably someone you're a fan of in this film. Phew!
The film itself looks like the type of family-friendly fare that also dazzles the eyeballs (and eyeballs always love bein' dazzled) and also warms the heart cockles. The story itself centers around Mary Katherine (Seyfried), a young girl who gets accidentally shrunk (no word on Rick Moranis' involvement with that) and discovers the hidden world within the forest not normally seen by the human eye. And in her smaller state, she witnesses the ongoing battle between the forces of good and evil—fighting to keep the natural world alive. By banding together with a quirky team of characters (including Ansari playing a Rico Suave-esque slug) to save the world, she learns a lot about life and family and love and respect (I'm sure). It looks cute! It will be really big with moms.
Check out the trailer below or head over to Apple Trailers for the HD version.
[Photo Credit: 20th Century Fox]
Epic flies into theaters May 24, 2013.
Follow Alicia on Twitter @alicialutes
More:
Uh-oh! J.R.R. Tolkien Estate Sues Warner Brothers for $80 Million
Guillermo Del Toro Compares 'Rise of the Guardians' to Marvel's Superhero Mythology
Bill Murray's Will Do the 'About a Boy' Thing in 'St. Vincent De Van Nuys'
From Our Partners:

'Twilight' Marathon: Watching All 5 Movies With a Group of Twi-Hards (Moviefone)

Most Ridiculous Movie Plot Twists Ever
(Moviefone)