Can We Believe Daniel Radcliffe as a Tough Guy in 'Horns'?
Back in the summer of 2011, It wasn't easy to envision what a post-Harry Potter world would look like, but we definitely didn't expect to see Daniel Radcliffe with a pair of knobby horns sprouting from his head, seeking revenge for his murdered girlfriend and sporting an American accent. Credulity runs pretty deep around these parts- You need to believe in the unbelievable to watch so many movies – but can we really buy Daniel Radcliffe as a tough guy?
In the new trailer for Horns, which you can watch here, we're asked to believe just that. In the upcoming horror flick, based on the novel by Joe Hill, Radcliffe plays Ig Perrish, who after a rough night of heavy drinking wakes up with horns protruding from his head. While rather unsightly, the horns do give Ig the ability to get people to confess their deepest, darkest sins, and Ig uses this newfound ability to discover who raped and killed his girlfriend, a crime of which he was accused. This supernatural mystery sounds interesting, but so much of the film's success will be hinged on Radcliffe and his ability to play a tough guy. A classic anti-hero, Ig fosters a deep need for revenge coursing through him. A darkness ready to erupt. And from what we've seen of Radcliffe via his filmography, we're not sure the young Gryffindor has it in him.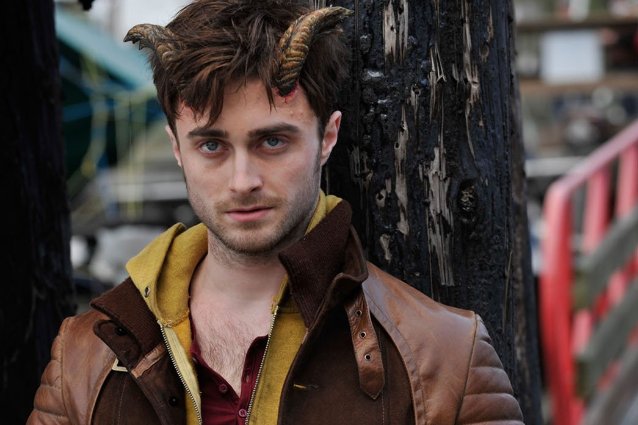 Dimension Films
Now, Radcliffe is an intensely likable human being. He's almost supernaturally affable. And over his stints in the theater, both Broadway and London's West End, he's developed into a fine young actor. He's absolutely stuffed with charm and affability, but he still doesn't have that hard edge to him that makes us think he could be believable as a man seeking bloody revenge for his lost love. 
With all that said, it is an actor's job to throw away who they are and morph into someone new, and it would be unfathomably silly to not give Radcliffe the benefit of the doubt. He's impressed us before and we wouldn't want to see the actor typecast in soft and sensitive roles for the rest of his career. Radcliffe has the ability to be so much more than just Harry Potter, and you can almost feel the actor trying his best to break away from the character that has come to define him. Let's hope that Horns is a showcase for the actor's diverse range. Hopefully, the boy that lived can finally die away.