Horror Movie Moments You Weren't Supposed to Laugh At
Horror movies both new and old provide scares and screams but there are just some scenes that, well, are ridiculously funny. Curl up with your Starbucks pumpkin latte and get ready for October with these over-the-top and crazy moments: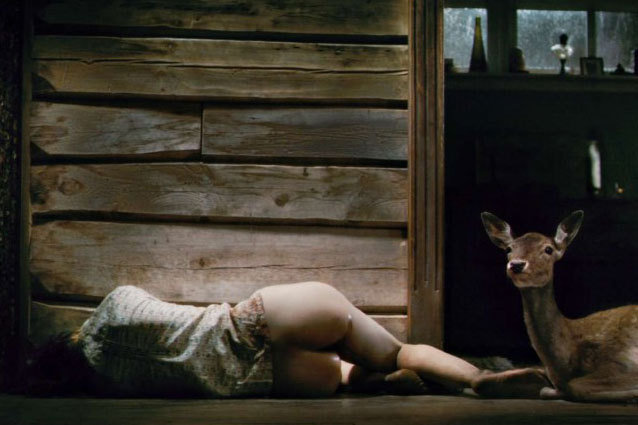 IFC Films
This Lars von Trier film is disturbing in about every way and has often been deemed as the weirdest, creepiest horror movie of recent time. Filled with religious symbolism, it's an interesting thing to watch if you can take it. There is one scene, though, that you may laugh out loud after watching. The CGI animals that the poor married couple stumbles upon in the woods are one thing, but when the adorable little red fox starts to speak, it's just too much. "Chaos Reigns" — his famous line — is now the subject of memes everywhere.
This well-known 1973 horror probably provided sleepless nights and many screams when it originally came out, but if you're looking for a movie that won't keep you up in bed until the sun rises, you've found the right flick. Linda Blair's performance as Regan McNeil is spot-on but there's just something uncannily hilarious about the staircase scene. Poor Regan probably pulls ten muscles going down the stairwell in her backwards-spider position.
The Blair Witch Project
If one scary movie sticks out from the 90s, it's the original "hand-held camera"  horror film that scared most people out of going into the woods for years to come: The Blair Witch Project. Yeah, maybe those three dumb film kids knew what they were getting into, you know, tracing down a witch's legacy, but if we're being honest, most people thought it was actually 'found footage.' It was hard not to laugh — even at first watch — at Heather Donahue's snot-filled video selfie in the middle of the night.
Paranormal Activity
While not reigning as the most terrifying horror movie saga, Paranormal Activity does provide quite the number of jumps. One of the most appealing aspects of the movies is the complete nativity and bizarre reactions of the family involved, but if you really need a laugh, just wait until that creepy old cult woman comes barging in during one of the last scenes in the third installment.   Lady comes out of nowhere (literally, this is her only scene) and wreaks havoc despite being old and frail. Maybe it's just me, but it totally provides a few great laughs.
Orphan
The main sentiment of Orphan's ending is generally "WTF?" and it's pretty terrifying at it's whole, but when Esther is revealed to be a 40-something-old woman it's pretty difficult to not let out a laugh. It makes sense, of course, but c'mon, who saw that coming? And who didn't look around at every child on the street and wonder just…what if?
More:
Unmasking the Villains of Horror
Disney Planning Cruella de Vil Movie
Netflix Docs About Your Favorite Films
---
From Our Partners:


40 Most Revealing See-Through Red Carpet Looks (Vh1)


15 Stars Share Secrets of their Sex Lives (Celebuzz)