'Hot Tub Time Machine' Sequel: Where (Or WHEN) Can They Go From Here?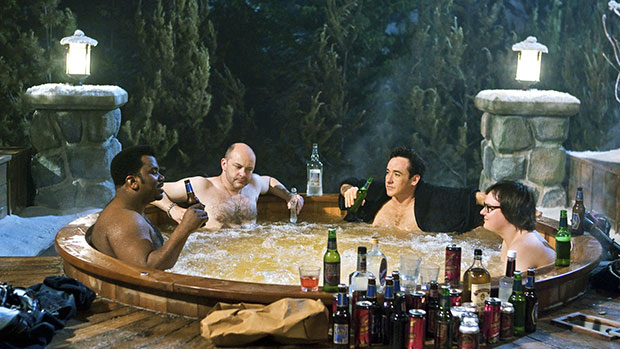 Throughout the 1980s, John Cusack made a living embarking upon ski vacations and passion-fueled romances. In 2010, the man to whom Chuck Klosterman once assigned the downfall of American society took that voyage again, parodying '80s cinema in the sci-fi/comedy Hot Tub Time Machine. Acting not only as a revival and send-up of Cusack's glory days, but as launching point for the career of Clark Duke and a new spotlight for established background comedians Rob Corddry and Craig Robinson, Hot Tub Time Machine effectively played with the tropes of films like Say Anything…, Better Off Dead, and fellow time travel comedy Back to the Future, among others. Now, the 2010 picture from director Steve Pink (who wrote another excellent Cusack venture, High Fidelity), looks to be getting a sequel: The Hollywood Reporter reveals that MGM is in discussions with the director and stars Corddry, Robinson, and Duke for a second cinematic exploit. The reports add that Cusack is not presently on board.
Hot Tub Time Machine is a comedy first and science-fiction second, but time travel and the principles that comprise it are undeniably substantial building blocks of the movie. Revisiting an established time traveling world is often a tricky feat — the community of follow-up ventures ranges from rousing success stories to regrettable glitches we wish we could go back and prevent. But most have at least striven for an expansion of the complicated sci-fi phenomenon. So where (or when) can Hot Tub Time Machine go in its potential sequel?
Into the future!
Back to the Future 2, the biggest representation of a franchise's decline in quality in movie history, transported Marty McFly to the year 2015, where he saw the future that would befall him, if he didn't do something about it. Might HTTM2 want to give its characters a glimpse at their yet-to-come incarnations, propping Corddry on a hoverboard and Robinson in a robot body?
Into multiple alternate futures!
A hard sci-fi staple, embodied in every genre title from Star Trek to Sliding Doors, maybe the hot tub (this time a sauna? a whirlpool? a bottle of Smartwater?) can send the goofballs off on a handful of divergent paths as they inadvertently create new possible futures with the help of subway doors, a sports almanac, or the wings of a butterfly (come to think of it, were there actually any butterflies in The Butterfly Effect?).
Way into the past!
Again, the Back to the Future series is the precedent: the third installment of the series relocates Marty and the Doc to the Old West. What time periods might best suit the HTTM gang? Medieval Europe? Ancient Rome? The early '80s?
To a robot apocalypse!
One of the greatest triumphs in time travel sequeldom is Terminator 2, which sends a robotic Arnold Schwarzenegger back in time to save the fate of the human race. But what if the same destiny overtook the HTTM crew, with a killing machine transported to the present day with a mission to destroy Corddry's character? (Again, in an effort to save the fate of the human race… seriously, we could see him causing our downfall.)
To a parallel dimension!
And of course, that masterpiece/travesty that was Bill and Ted's Bogus Journey, which followed up the duo's journeys through world history with an adventure to the beyond. Clark Duke playing chess with Death, Craig Robinson befriending an alien species known only as Station, and conversations with the man upstairs… that'd be one weird, idiotic movie that I would totally, definitely see.
[Photo Credit: MGM]
More:
Kid Cudi Cast in 'Need for Speed': Will He Be the Next Common or the Next Xzibit?
A 'Ben-Hur' Reboot: How It Could Go Wrong or Right
'Pirates 5,' 'Captain America 2,' 'Muppets 2': Disney's Release Date Frenzy

100 Hottest Women of the Century: Do You Agree?