'House at the End of the Street' Trailer: Jennifer Lawrence, Scream Queen?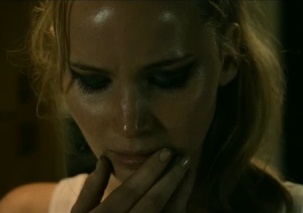 A new trailer for the upcoming thriller The House at the End of the Street has made its way online, and it features a side to Jennifer Lawrence that we've never seen before: horrified.
In House at the End of the Street, the Hunger Games 'it' girl plays Elissa, who moves with her mother (Elisabeth Shue) next door to the titular haunted house, where a young girl murdered her family with the exception of her brother, Ryan (Max Thieriot), whom Elissa befriends. Before long, Elissa finds herself trying to get the bottom of a story that clearly doesn't want to be investigated.
The trailer seems to show a somewhat run-of-the-mill, dimly lit, PG-13 scream-fest (with the usually unflappable Lawrence providing the vocals), and it's never encouraging when a movie has been delayed repeatedly, as House at the End has, but there do seem to be some legitimate thrills, and the fact that Jonathan Mostow (Terminator 3: Rise of the Machines) pitched in on the script can't hurt. Check out the trailer below and House at the End of the Street when it hits theaters, Sept. 21.
More:
'Hunger Games' to Horror: Jennifer Lawrence's 'House at the End' Trailer – VIDEO
'Hunger Games' Star Jennifer Lawrence: Her Follow-Up Horror Flick
'Serena': Jennifer Lawrence Drops 'Hunger Games' for Bradley Cooper and Class – PHOTO