How Animators Brought Monty Python Back to Life — EXCLUSIVE VIDEO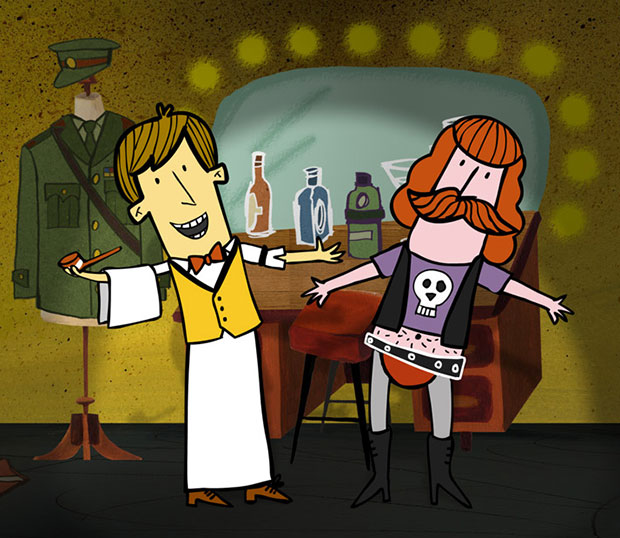 In true Monty Python spirit, Graham Chapman's 1980 book A Liar's Autobiography recounted the life of the comedian… in an entirely made-up and silly fashion. After battling cancer, Chapman passed away in 1989 at the age 48, but the book stood as a testament to his humor and legacy in the world of comedy.
Before he died, Chapman recorded an audio version of A Liar's Autobiography, and now nearly 20 years later, that recording has become the foundation for an innovative new film, aptly titled A Liar's Autobiography: The Untrue Story of Monty Python's Graham Chapman. When the idea came up to bring the book to life, filmmakers turned to various forms of animation to fully realize Chapman's story — fitting, as cartoons were an artistic staple of Python's work.
The stylistic approach captures the whimsical nature of his writing, and utilizes the recording and the voices of the rest of the Python troupe. A Liar's Autobiography reunites John Cleese, Terry Jones, Michael Palin, and Terry Gilliam for a surreal look into the mind of Graham Chapman. Quite possibly the greatest gift for any Monty Python fan.
Now for something… not terribly different: see how the filmmakers behind the movie brought the book to life in this exclusive behind-the-scenes video.
A Liar's Autobiography arrives in theaters in 3D and on EPIX November 2nd, 2012.
Follow Matt Patches on Twitter @misterpatches
[Photo Credit: EPIX]
More:
TIFF 2012: 'Liars Autobiography' Directors & Terry Jones on Capturing Graham Chapman
Web Comedy is the New 'Monty Python': 'Key & Peele' Weigh In
What is the Sitcom of the Future? And When Will It Get Here?