How Apple's New iPad, iCloud, Apple TV Will Change the Way You Watch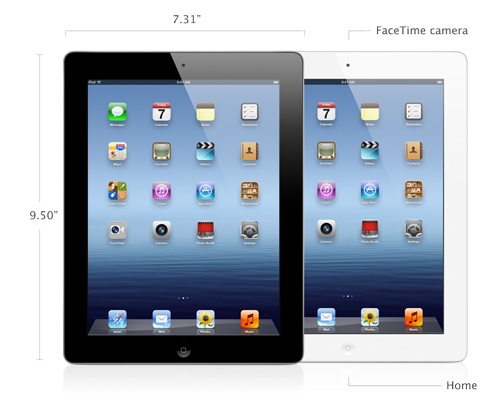 As with every new announcement coming out of Apple—be it a new iPhone, iPad, operating system improvements or terrifying Terms of Conditions updates—the globe has been buzzing over what the looming March 7 event date could hold. Today, secrets were revealed, and if you're an avid consumer of entertainment, the new products and upgrades should do wonders to win you over.
Leading up the presentation, tech folk across the web were speculating on a new and improved iPad…and they certainly got their wish. But, like any good show, Apple kept them waiting with a few other housekeeping announcements. First up was an enhancement of Apple's iCloud service, which previously allowed subscribers to keep music, photos, books and apps available in the ether for use on any Apple device. CEO Tim Cook took the stage earlier today to announce that iCloud will now allow movies. Finally, folks who start The Dark Knight on their home PC will have the freedom to take it to the couch with their iPad, then to the highly-illegal maneuver of driving-while-watching-Batman via the iPhone.
Apple will also be upgrading their Apple TV device. The new box will keep the same sleek, compact form, but now allow for 1080p video. Unfortunately, the new capabilities are not a simple system update, but instead, an entirely new ATV (although the Apple folk were quick to mention it will still cost $99).
After the few quickie announcements, it was on to the big reveal: a new iPad. The third iteration of Apple's game changing device sports a 2048 x 1536 display—3.1 million pixels, the most for any mobile device ever. To give you perspective, a 1080p resolution amounts to 1920×1080, so images on the iPad are going to look snazzy, to say the least. Snazzy and colorful, as the iPad will sport 40% better color saturation than the iPad 2. For those who enjoy making their own movies, the new iPad will feature an upgraded iSight camera capable of shooting 1080p video and image stabilization.
With Netflix, Hulu and other streaming services being an essential part of the movie and TV buff lifestyle, network connection an essential topic of discussion, and the latest iPad will improve with ramped up, 4G speeds—whizzing nearly 10 times faster then standard 3G iPads. Verizon, Rogers, Bell, Telus and AT&T will all support the iPad's 4G LTE. That's a lot of umph for a single device, but Apple made sure to push the new model's lengthy battery life: ten hours fully charged, nine on 4G. Watching stuff just got a whole lot better.
The new iPad will debut in both black and white with a ton of model options: $499 for 16GB, $599 for 32GB and $699 for 64GB. The 4G models see a slight spike: $629 for 16GB, $729 for 32GB and $829 for 64GB. The iPad will roll out across the globe—Apple's largest role out to date—on March 16 (pre-orders available now).
So, will you pick up the new iPad?
="font-style:>