How 'Green Lantern's' Opening Weekend Will Fare Against Other Superheroes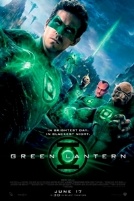 With the debut of Warner Bros.' Green Lantern at midnight on Thursday, a look back at some of the biggest superhero movie openings is in order. Notably of the Top 30 opening weekends of all-time, 9 are superhero movies and the top 2 opening weekends in history belong to the genre. The Dark Knight redefined what these films could achieve both in terms of artistic merit and sheer box office muscle: not only did the film bust through the $150 million opening weekend ceiling, it was the likely inspiration for The Motion Picture Academy to allow 10 films for Best Picture consideration the following year.
Of course, Hollywood, in its quest for future profits, is forced to delve deep into the archives and give lesser known superheroes the big screen treatment; therein lies the challenge going forward. For every iconic and well-known superhero from the DC Comics and Marvel catalog, there are 10 lesser known characters that lack the brand name recognition of a Batman or Spider-Man. Both the Iron Man and the X-Men films have been hugely successful and they along with the aforementioned icons of this comic book universe have made the superhero movie the "default" blockbuster genre of this generation.
With Thor and X-Men: First Class making their presence felt in the marketplace, we still await the imminent release of Green Lantern and then Captain America on July 22. With the eyes of the industry watching one thing is certain – 2012 may deliver the biggest box office revenues for the genre ever with The Dark Knight Rises, The Amazing Spider-Man and perhaps the mother of all superhero movies to kick off the Summer on May 4: The Avengers, which brings together the Marvel Comics Superhero team including Iron Man, Captain America, Thor, Hulk, Loki, Nick Fury, Natasha Romanoff and Hawkeye in a huge superhero mash up that could potentially post one of the biggest (if not the biggest) opening weekends in box office history.
Read on below for a complete rundown of the biggest superhero opening weekends ever, and if it's too small to read, click here for a larger version: