How 'Possession' Producer Sam Raimi Continues to Be a Master of Horror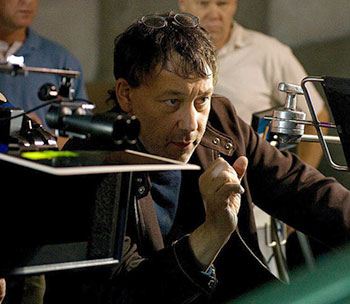 There are few names within the horror circles that have managed to resonate beyond their own genre fandom and achieve widespread appeal. Thanks to his trilogy of cinematic Spider-Man adaptations a few years ago, Sam Raimi can proudly cast his name among them. However, he is sacrosanct to his legions of fans because his roots will forever be firmly planted in delightfully cursed soil. It all started with a mico-budget, but wildly imaginative campfire story called The Evil Dead; the progenitor of every cabin in the woods movie to follow (including this year's The Cabin in the Woods). What Raimi and his team were able to achieve in 1981 would drastically alter the face of fright for years to come.
There are those who would argue that Raimi's few and far-between ventures into horror since the conclusion of The Evil Dead trilogy means that he is no longer a force within the genre. This is a fallacy. The fact is, like some rapidly decaying zombie, Raimi has managed to leave little traces of himself all over horror to genre — it's just that the main hat he now wears is that of a producer. This week he serves in that capacity on The Possession. The film, with the remarkably self-evident central conceit, was directed by Danish filmmaker Ole Bornedal.
This collaboration will seem far more fitting momentarily. Around 2004, Raimi launched his production company Ghost House Pictures. Ghost House had a hand in the production of one of the most successful remakes of the J-horror craze: The Grudge. The Americanized Grudge, formerly called Ju-on, starred Sarah Michelle Gellar and was directed by Takashi Shimizu who also helmed the original version. Ghost House also produced the big screen adaptation of the Steve Niles and Ben Templesmith graphic novel 30 Days of Night, which centered on a pack of vampires establishing feeding grounds in Alaska. They can also list Boogeyman, The Grudge 2, and The Messengers among their productions.
Equally impressive as their production lineup was Ghost House's distribution catalog. Through their Ghosthouse Underground wing, Raimi's company has made available to horrorphiles outstanding independent and foreign genre titles. The British horror film, The Children, is a terrifying tale of little ones gone bad that is absolutely fantastic. They also distributed Gregg Bishop's sweet and savage teen horror comedy Dance of the Dead as well as Peter A. Dowling's bachelor-party-gone-wrong nightmare Stag Night.
Most appropriately however in this regard, Ghosthouse Underground were the distribution company for Ole Bornedal's breakout film The Substitute.
The Substitute is a remarkable little horror film that plays to our collective childhood fear of the mean old crones who would fill in when our regular teachers were out sick. While Mrs. Harms is hardly a crone, she is the scariest substitute any kid could imagine. While we may have joked as kids that our substitute teachers were aliens, the kids in Mrs. Harms' class may have a legitimate case. The Substitute artfully balances dark comedy and playfully sinister horror beats. It wowed Fantastic Fest audiences in 2008 and is now primed for a remake with which Raimi is rumored to be involved.
So yes, it's not surprising that Sam Raimi is producing Ole Bornedal's The Possession. He's recognized Bornedal's talent for years, as evidence by Ghousthouse Undergrounds' distribution of The Substitute. Recognizing rising horror filmmaker talent is precisely the lasting impact Raimi has had on this genre for which he is so revered. Though as a director, Raimi is moving into the realm of big-budget fantasy with Disney's Oz The Great and Powerful, he remains a faithful horror producer. Among his upcoming production endeavors are remakes of Tobe Hooper's Poltergeist and, wouldn't you know it, The Evil Dead, the movie that made him a legend in his industry.
Follow Matt Patches on Twitter @misterpatches
[Photo Credit: Universal Pictures, Lionsgate]
More:
'Possession': Jeffrey Dean Morgan Reads the Scariest Bedtime Story Ever — EXCLUSIVE CLIP
Comic-Con 2012: 'OZ, Great and Powerful' Footage Overflows with Imagination — VIDEO