How 'Ted' Won the Weekend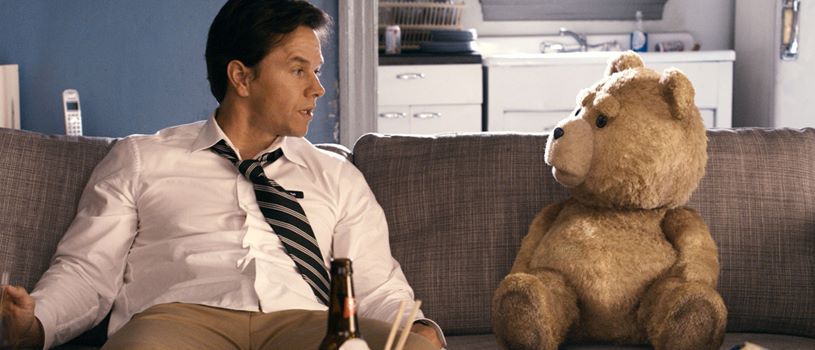 Family Guy may have its devout following, but Ted's big weekend win — a whopping $54.1 million total — is a signal that Hollywood Renaissance man Seth MacFarlane is broadening his audience with ease.
Fox's Family Guy (which was picked up this year to run through 2014) routinely draws the highest ratings for a key demographic: around the 2 million mark for Men 18 – 35 — but Ted's weekend breakdown was unexpectedly diverse. Numbers from Universal approximated this weekend's Ted audience as 56% male and 44% female, with 52% of the crowd over the age of 30. The spectrum of ticket buyers is only part of the successful equation — with a CinemaScore (basically an average of audience exit reviews) of A-, Ted stands as one of the better reviewed films of the year. For comparison Adam Sandler's That's My Boy, this summer's other R-rated comedy, earned a B- and was pegged as a financial bump in the road for the A-List star.
While MacFarlane's name is all over Ted's success story, the recent appeal of the film's live-action stars only worked in the movie's favor. Ted stands as Mark Wahlberg's second biggest opening as a leading man — only $14 million under Tim Burton's big budget Planet of the Apes in 2001. The movie follows his recent success in big budget comedies like Date Night and The Other Night, both films with total grosses hovering around $100 million totals. Newer to the big screen scene, Mila Kunis adds another hit to her track record. With the unpredicted success of Black Swan and supporting parts in hits like Book of Eli, the starlet is quickly becoming a go to leading lady.
After earning $20.7 million on Friday and taking a slight dip with $17.9 million on Saturday, Ted set records with its final total, besting The Hangover as the biggest opening for an R-rated, non-sequel comedy. Many have cited Ted as a signal for MacFarlane to end Family Guy and stick to making movies. A drastic move, perhaps, but after this weekend's numbers, the writer/director/producer would have no problem making the full transition. Where his TV mainstay clicked with a dedicated, niche audience, his big screen filmmaking skills clearly speak to the masses.
Follow Matt Patches on Twitter @misterpatches
More:
'Ted' and 'Magic Mike' Lead Strong Box Office!
Seth MacFarlane's 'Ted' Convinces Us It's Time For 'Family Guy' to End
'Spider-Man' Shocker: Tops 'Avengers' in Huge Overseas Box Office Debut
[Photo Credit: Universal]