How to See the Avengers Shirtless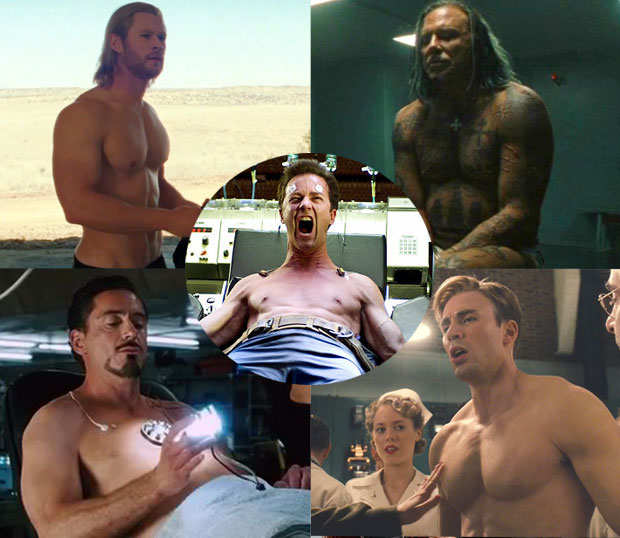 Screw origin stories, damsels in distress, and tittering villains bent on taking over the world. My favorite superhero movie convention is the delicious scene in which the star takes off his costume and shows off his upper body to the world he's about to save. It's like his power consists solely of going to the gym every day and saying no to Ben & Jerry's Cherry Garcia Pops at the bodega. Either that or that he makes enough money to pay someone to train his lazy ass into superstar shape.
We can hardly wait to see Robert Downey Jr, Mark Ruffalo, Jeremy Renner, Chris Hemsworth, Chris Evans, and the other guys inviting us to the gun show this weekend in The Avengers (please, for the love of all that is amorous and holy, Joss Whedon, give us a locker room scene), so I decided to track them all down in the movies leading up to this big, er, tentpole. We're focusing on the male heroes because NSFW movie nudity site Mr. Skin is sexist and only shows when girls are topless on screen and because if you want to see Scarlett Johansson with her shirt off there are plenty of opportunities thanks to some leaked cell phone pictures. I tracked all the pectoral goodness in all of the Marvel movies myself. Here's where to go to see your favorite men of steel in the buff.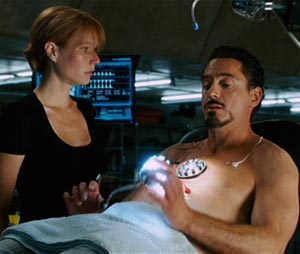 Iron Man: There is only one shirtless scene in the whole movie in which Robert Downey Jr., convinces his assistant (Gwynnie Paltrow) to change the battery that is lodged in his chest. Not the sexiest of nudity, but check out those abs.
Timestamp: 49:15 – 52:33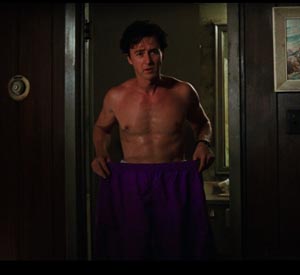 The Incredible Hulk: Considering Hulk's powers make him rip off all his clothing, Edward Norton (sadly not Mark Ruffalo, who plays Hulk in The Avengers) spends more time shirtless than he does in the warm embrace of a cotton T-shirt destined to be reduced to rags as soon as he "get angry." This does not include when the Hulk, himself, is shirtless and rampaging, because ew.
Timestamps: 3:03 – 3:16
5:01 – 5:48
28:44 – 29:45
30:48 – 31:00
46:33 – 47:32 (bad guy Tim Roth nudity)
66:08 – 64:36 (nude shower scene!)
66:12 – 66:59 (sex scene with Liv Tyler)
67:27 – 67:55 (more Tim Roth)
75:05 – 75:30
76:19 – 77:42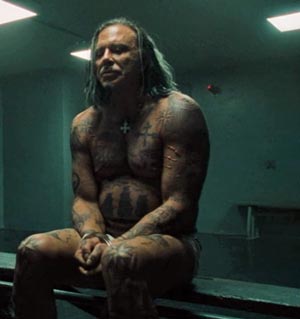 Iron Man 2: Feeling shy about going shirtless, RDJ stays clothed the entire picture. Still, the villain, played by Mickey Rourke covered in fake tattoos, does show off his physique.
Timestamp: 37:52 – 39:55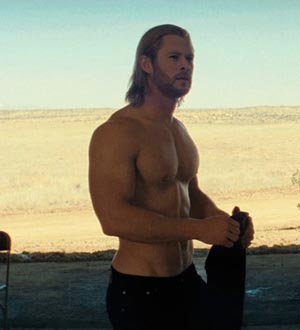 Thor: Shockingly, director Kenneth Branagh only got Chris Hemsworth out of his costume once and for only about 30 seconds. Still it is perhaps the best and most magical of all our skintastic moments so far. Timestamp: 36:36 – 37:05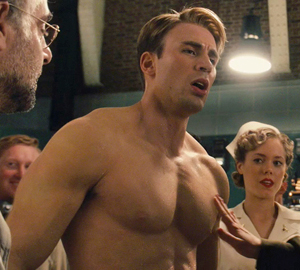 Captain America: Sadly, half of the skin-baring is when Steve Rogers (Chris Evans) is still scrawny and not the buff Captain who rushes off to save the day. However, when he's fully grown, he's well worth watching.
Timestamps: 8:14 – 9:06 (this is scrawny Steve, but takes place in an Army recruitment office full of gorgeous boys and without a shirt in sight)
32:55 – 33:45 (scrawny still)
37:00 – 37:39 (now there we go!)
Follow Brian Moylan on Twitter @BrianJMoylan
More:
A Non-Geek's Guide to 'The Avengers'
Avengers Assembled: Meet the Epic Cast of Heroes