Hugh Grant Goes Back to Rom-Coms, But Is That Where He Belongs?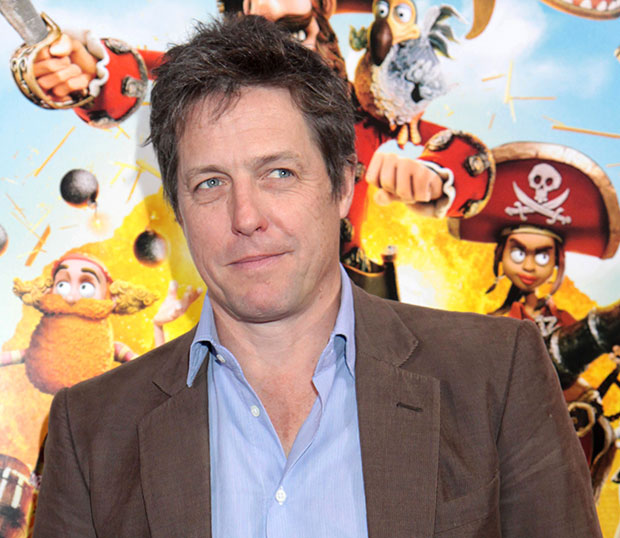 It's happening again. Hugh Grant is making his way onto the big screen, where he'll bumble around and stumble through his words right into a make-out session with a lovely young lady. Ain't that the way it always goes? The problem is that since 2003's holiday rom-com, Love Actually Grant's romantic mechanism doesn't have nearly as much spark.
For his next act of romance, Grant will team with director and writer Marc Lawrence, who worked with Grant on Two Weeks Notice, Music and Lyrics, and Did You Hear About the Morgans?. Unfortunately, the critics weren't too kind to any of these films, especially The Morgans whose poster featured a sleepy-eyed Grant and a mildly interested Sarah Jessica Parker. And it's not just because the plots of these films was a little far-fetched. (An estranged couple forced into cohabitation thanks to a chance encounter and a stint in the witness protection program? Happens every day.) There's also an element of over-saturation.
For the bulk of his career, Grant has played the same lovable screw-up over and over again. We came to love that person back when Four Weddings and a Funeral was the rom-com, and we followed him all the way into the early 2000s, despite a few of Grant's personal setbacks, including his arrest in 1995 after he received a very public sexual favor from Los Angeles prostitute Divine Brown. Even with that event making waves in the '90s and continuing to be a part of every E! special about celebrity scandals and oopsies, audiences were ready to let Grant steal their hearts time and again, across the pond and at home. But even the strongest trees fall, and Grant's rom-com persona started to show its age in the early 2000s when he came out with Two Weeks Notice in which his disconnect from co-star Sandra Bullock was palpable.
At that time, it seemed that Grant was beginning to see his leading hunk star fading too, as he took on roles that were outside of his comfort zone, taking a supporting spot as the scoundrel to Renee Zellwegger's Bridget Jones and digging a little deeper as About a Boy's man-boy Will Freeman, who learns a bit about life thanks to a young boy who waltzes into his life. Grant even tried on a Woody Allen flick for size when he played a supporting role in 2000's Small Time Crooks. Plus, after audiences witness Grant in this year's Cloud Atlas — a film in which one of his six (yes, six) diverse characters is a cannibal who wears necklaces of body parts and licks human blood off of swords like so many cake battered spatulas — the actor may have found a way to prove once and for all that he's more than the guy we love despite his lack savvy and suave language.
Why then, is he going back to the rom-com well? Perhaps Grant wants to make sure that muscle is still working — after all, he hasn't done one since 2009 — or perhaps even though critics are tired of Grant's shtick, audiences are still willing to shell out the cash to see him do it (unless you're looking at The Morgans, Grant's rom-coms have continued to be at least mildly lucrative). Still, if Grant has proved anything during his lengthy career, it's that he's Teflon (no scandal can bring this man down); that he can use his powers of cluelessness and shortsightedness to greater, truer emotional effect, like he did in About a Boy; and that he can play characters we never imagine he'd attempt, like a racist slave trader from the 1800s or a drug-addicted, small-time tyrant in future Korea in Cloud Atlas.
It's not simply that Grant's go-to romantic hero is a bit overused at this point, it's that he's clearly got the ability to entertain in a vast variety of ways. Sure, he can do the "I'm terribly sorry, but I think, I think… I think I just might love you" bit until they stop making movies about happenstance romance, but is it wrong of us to crave a something a little different?
Follow Kelsea on Twitter @KelseaStahler
[Photo Credit: ]
More:
Hugh Grant on Acting in 'Pirates!': 'Alone in My Kitchen, Experimenting With Voices'
Hugh Grant Almost Replaced Charlie Sheen on 'Two and a Half Men'
From Our Partners:

Jaw-Dropping Actor Transformations
(Moviefone)

(Moviefone)