'Human Centipede 3' Will Have a 500-Person Centipede – Seriously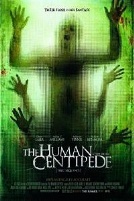 Tom Six, the writer and director of the Human Centipede movies, is unfulfilled. Anyone can sew three people together, or even twelve. Anyone. But a real hero needs to challenge himself. Tom Six will be that real hero. There's a third Human Centipede in the works—The Final Sequence—and you'll never guess how many people are going to get sewn together in it.
Stop guessing. It's 500. Yesterday, Six
Tweeted
, "#humancentipede3 will have a 500+ person pede. XXXXL American style!" bringing light to the widespread stereotype embraced in Six's Dutch homeland that all Americans are sewn to at least a few hundred other people.
We got word last summer that
Human Centipede 3 would be coming to America
, but this is the first we've heard of any details on the project. But it's pretty much all the details you'd need to get totally psyched for the movie. Or, just as likely, to decide you absolutely never want to see it as long as you live.