'Hunger Games: Catching Fire' Casts Jena Malone: 5 Badass Babes Who Could Tutor Her

There is that moment in every kung fu movie in which the hero is taught the ways of fighting by a wise master (or several wise masters). The fighter takes all the skills he or she can learn from their mentors and becomes greater than the sum of their parts. Think about Kung Fu Panda, after Po masters the dumpling trick. Well, Jena Malone — who has just been officially cast as Johanna Mason in the Hunger Games sequel, Catching Fire — is going to have to start eating her dumplings.
I wasn't necessarily thrilled about the news, considering Johanna is my favorite character and is portrayed in the book as a tough girl with a lot of fight in he — traits that we haven't seen yet from indie darling Malone. Instead of getting mad about it — after all, Malone could prove to be perfect for the part, much like Katniss herself, Jennifer Lawrence — I've assembled five badass lady teachers to school Ms. Malone before her big role. If, and only if, she can learn the skills from these broads will she be able to take on the role of my favorite axe-wielding Tribute.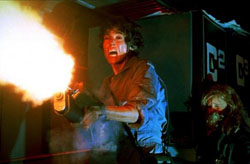 Ripley from Alien: Johanna Mason supposedly lasted through her first Hunger Games and comes back to compete again to protect a younger girl from being killed in the arena. Who does this sound like other than the indefatigable space ass-kicker Ellen Ripley (Sigourney Weaver), who battled the baddies through three films and delivered the best action-capping line of all time? Everyone will want to stay away from this bitch.
Skill: Survival.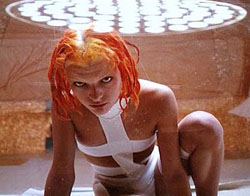 LeeLoo from Fifth Element: The first time we meet Johanna in the book, we learn that she is not only well known for her beauty, but also for her love of being totally naked. It's hard to fight to the death when wearing next to nothing, but this often-buff alien savior played by Milla Jovovich makes it seem easy to kick ass in nothing but boob bandages.
Skill: Nudity.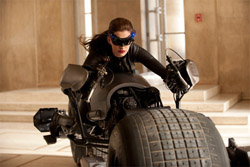 Selina Kyle from The Dark Knight Rises: Sure, Anne Hathaway looked really damn good while shoving her stiletto down a villain's throat, but it's not what she wore while beating the baddies, it's what she said. We need our Johanna Mason to not only to be tough, but mean, sarcastic, and just a little bit ironic.
Skill: Quippiness.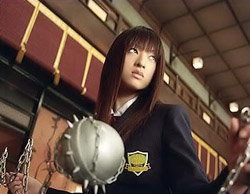 Gogo Yubari from Kill Bill: The legend is that Johanna Mason won her first Hunger Games by pretending to be weak and frail so that everyone forgot about her, but then killed them all when they underestimated her. There is only one lady in film who looks both menacing and innocent at the same time. If only she used an axe, like Johanna, instead of some crazy spikey ball thing.
Skill: Innocence.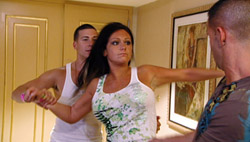 JWOWW from Jersey Shore: This girl has the whole Johanna Mason package: She likes to show off her body, can land a punch, is highly sexual, is better in a battle than most of the boys, and can survive the booze death arena of Seaside Heights, New Jersey. Seriously, she would probably make a much better Johanna Mason in the movie than Jena Malone.
Skill: Everything.
Follow Brian Moylan on Twitter @BrianJMoylan
More:
Jena Malone in Early Talks for Johanna Mason 'Hunger Games: Catching Fire' Role
'Hunger Games: Catching Fire': Sam Claflin Reportedly Cast as Finnick Odair
'The Hunger Games: Catching Fire' Nabs Amanda Plummer for Wiress