Hunger Games Clip: Jennifer Lawrence Sends an Arrow Our Way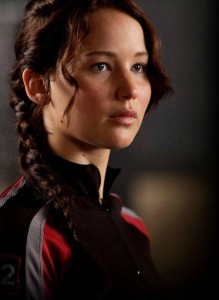 The key to any good fantasy story is believability. A movie or a book can create a wild and crazy world, but if there isn't a human element, a display of raw reality, then the audience will never be hooked. The Hunger Games movie gets that—and with every morsel of footage released to starving fans, the filmmakers, producers and marketing machine have wisely emphasized the tangible aspects of their big budget sci-fi film.
To be fair, having latest Hollywood ingenue Jennifer Lawrence kicking butt never hurts either.
In this latest clip from the film, Lawrence prepares for the games with a bit of archery training. When she realizes no one's paying attention to her (gaining the favor of the crowd happens to be an integral part of winning the competition), she turns her bow to slightly more animate targets. The scene is visceral, grounded and exciting—like real life!
The Hunger Games, starring Lawrence, Josh Hutcherson, Liam Hemsworth, Elizabeth Banks and Woody Harrelson, flies into theaters March 23. Don't forget to browse all of our coverage in the Home of the Hunger Games hub!
="font-style:>