'Hunger Games' Exclusive: 'Unofficial Cookbook' Author on Whipping Up Dishes for the Games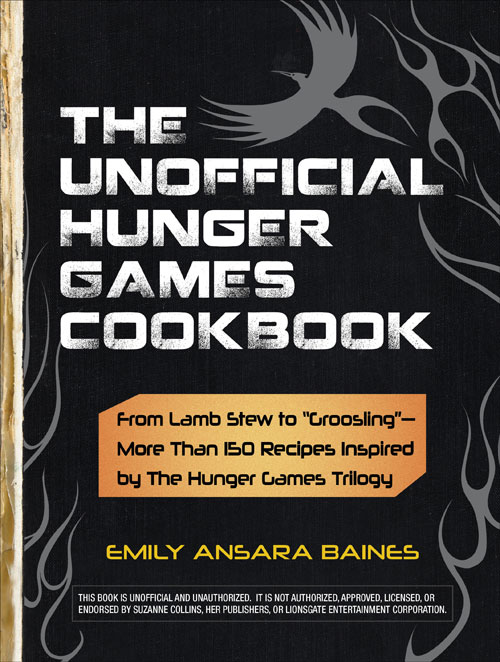 In the forward to author Emily Ansara Baines' new Hunger Games-inspired cookbook (The Unofficial Hunger Games Cookbook, available now), Baines stresses the importance of food in the hit young adult fiction series: "It represents a variety of conflicts that the characters, regardless of background, must struggle against." Whether food is empowering players during the competition or symbolizing deeper meaning—Baines notes that Katniss is named after a highly nutritious root—food is the backbone of Suzanne Collins' books (and writer/director Gary Ross' movie adaptations too). It's right there in the title: Hunger Games.
Baines was inspired to pen a Hunger Games cookbook after devouring the trilogy during her day job as an in-house chef for a sound production facility in New York City. "It was my job to come up with a new 'dish' or 'snack' for the staff and our clients every day.  I had been at the job for a while, and was running out of ideas. I was at the point in The Hunger Games when Katniss describes the bread Peeta purposely burns for her, the hearty bread with raisins and nuts. When I read Suzanne Collins' description of the bread, I thought to myself, 'Wow, that sounds delicious… I wonder if I could bake something like that!' And, well, the rest is history."
Once Baines found a home for her cookbook concept, she immediately jumped back into the books, highlighter in hand. "I highlighted every reference of food—it could be something as simple as an apple growing from a tree (which of course Katniss and the other members of her District would pick for food!) or a side condiment. Then I typed up the quote and page number in a word document, and then, and only then, did I start cooking up some recipes."

The careful analysis of Collins' three books elevate The Unofficial Hunger Games Cookbook from culinary riff to a tome that the biggest HG fan can appreciate. Each collection of recipes—ranging from breakfast, stews, meat dishes, seafood, wild game and dessert items—is annotated and founded with snippets from Hunger Games, Catching Fire and Mockingjay. For those with a serious investment in authentically recreating the dishes, Baines also includes "Katniss's Family Book of Herbs," glossary of the rarer spices, roots and berries on the market.
Baines job involved more than digging up applicable dishes that would fit the Hunger Games bill, she also had to make the food—even the difficult and wild combinations. "The hardest recipes to make were the wild games ones, of course.  Finding wild squirrel is really hard when you live in Brooklyn!  I mean, I guess I could have hunted down some on my own, but I suck with a bow and arrow. I finally found a dude through the internet who was willing to sell me squirrel—but then he literally sent me a dead squirrel in a box, skin and eyes intact.  So I screamed and threw that out.  Luckily, I found more legal ways to get meat—mostly through the internet or my friends."
As for Katniss, Peeta and the rest of the gang's big screen outing (which hits theaters March 23), Baines is confident the importance of food will remain intact, and in some ways, be amplified. "I think an excellent way to visually represent Katniss' roots as compared to her new reality in the Capitol as a Tribute would to show her hunting/starving/eating nuts and berries, and then the readily available fattening feast of food that suddenly becomes available once she starts to train for the games.  The shock on her face when she first sees how 'the other half lives' will be echoed by that of the movie's audience when they can visually see just how different the food options are (and hopefully they'll want to then taste the difference by using the recipes in my cookbook!)."
Check out this mouthwatering sample from The Unofficial Hunger Games Cookbook (click to enlarge), which is available now in both hardcover print and e-book editions.
Contact Matt Patches directly on Twitter @misterpatches and remember to follow @Hollywood_com!

Selection from The Unofficial Hunger Games Cookbook: From Lamb Stew to "Groosling" – More than 150 Recipes Inspired by The Hunger Games Trilogy (F+W Media, December 2011) by Emily Ansara Baine