'Hunger Games' Fans Create Detailed World Map: See It

While the big screen adaptation of Suzanne Collins' Hunger Games doesn't require you to read the book, it's certainly enhanced by it. Collins' trilogy is rich with detail, a world built from the ground up (or rebuilt, if you want to be a stickler). That level of imagination explains the enthusiastic fanbase, a rabid group that has been creating art, music and more in anticipation of the film, helping the movie track to be one of the biggest movies of the year. If you haven't read the books (and why haven't you??), much of the creative offspring produced by Hunger Games fever may be lost.
For instance, this map, tracked down by Entertainment Weekly and designed by livejournalers aimmyarrowshigh and badguys. Extrapolated by Collins descriptions, the spatial rendering of the Hunger Games world, Panem, puts the movie into context—now it makes perfect sense why Katniss' home looks like a West Virginia mining town! Check out this amazing fan-rendering (plus the duo's how-they-made-it feature), then head over to our Hunger Games 101 for a schooling in all things Panem. You can also catch up with the book's two sequels, Catching Fire and Mockingjay, because, really, it never hurts to be ahead of the curve for next time!
Contact Matt Patches directly on Twitter @misterpatches and remember to follow @Hollywood_com!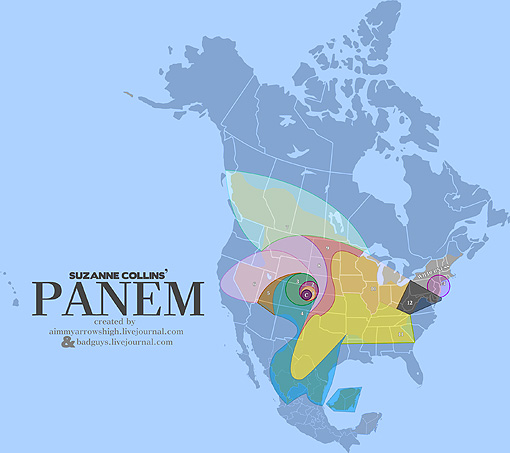 [EW]