'Hunger Games:' How It Can Break the Top 10 Grosses of All Time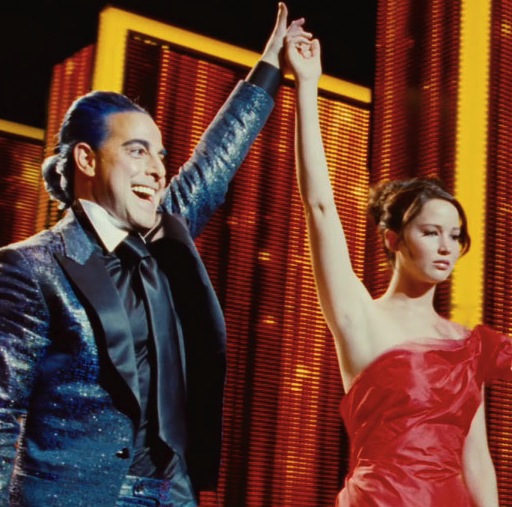 Early in The Hunger Games' development, questions were raised whether it could be a financial success. Was the built-in audience feverish enough? Did it have broad appeal with this post-apocalyptic, fight-to-the-death storyline? Young adult fiction adaptations of the past weren't bulletproof, but in February 2012, Fandango pre-sale numbers put that worry to rest—in its first day, Hunger Games outsold Twilight: Eclipse, the highest grossing in the franchise.
Amazingly, even if Hunger Games goes on to top Twilight's top earner, it still wouldn't crack the top 25 box office champions of all time—or even the last decade. Does the Jennifer Lawrence-starring young adult fiction adaptation have the momentum to snag a spot in among the highest grossing movies ever? I crunched the numbers with Hollywood.com Box Office Analyst Paul Dergarabedian and, if history is any indication, HG's box office life could be predicted with just one weekend.
Midnight screenings are the first tip to a big success and The Hunger Games ' pedigree proves it has a fighting chance to rake in a ton of cash in its first few hours of opening. The spots on the top six midnight screenings of all time list are all filled by either Harry Potter or Twilight films, which fits the Hunger Games mold. Deathly Hallows – Part 2 (43.5 mil), Breaking Dawn – Part 1 (30.3 mil), Eclipse (30 mil), New Moon (26.3 mil), Deathly Hallows – Part 1 (24 mil) and Half-Blood Prince (22.2 mil) may not have been first entires, but they crept into theaters at a time when midnight screening culture was hitting an all time high (especially with the franchise's target demographic). With excitement high for Hunger Games, a number somewhere in that ballpark can be expected.
Single-day grosses is a near carbon copy of the midnight trend, with Deathly Hallows – Part 2 and Twilight: New Moon, Breaking Dawn and Eclipse delivering between $68 – $91 mil. Rounding out the top five is The Dark Knight, which took $67 million in its opening Friday, but went on to upset both Potter and Twilight, becoming the second highest grossing movie of the last decade. Even if Hunger Games slides under its main contenders in single-day gross, its legs could prove a stronger asset in the long run.
The real indication whether Hunger Games can rise to the top of the all-time domestic box office champions comes on Sunday, when the final opening weekend totals come rolling in. Here, the Potter/Twilight stronghold cracks, with Deathly Hallows – Part 2 atop the throne with $169 million, The Dark Knight in second with $151 million and Spider-Man 3 rounding out the top three with $151 million. But even after all these calculations, it's Shrek 2 (#16 on the weekend gross list with $108 mil), Dark Knight and Avatar (which didn't find a place on the midnights, single-day or weekend earnings lists) that take the top three spots in the highest grossing movies of the last decade. Deathly Hallows – Part 2 only hits #8 (and #13 on the all-time list), even when coming out of the gate with huge profits. Fans crazed for the young adult fiction adaptations may come out strong in the beginning, but the last ten years prove they don't equal record breaking final totals.
The Hunger Games has one advantage over Twilight and even the Potter films: it's being critically hailed. Enthusiasm is strong, ranging from positive to head-over-heels (you can read our review here), but word-of-mouth between groups of all ages could push HG above and beyond. According to Dergarabedian, a low-ball weekend gross for Hunger Games is around the $130 million mark, with high estimates around $150. The number puts it between Twilight and Potter, but for the first film in the series, it's miraculous—and top ten potential.
Contact Matt Patches directly on Twitter @misterpatches and remember to follow @Hollywood_com!