Shot Through The Heart! Katniss And Pop Culture's Coolest Archers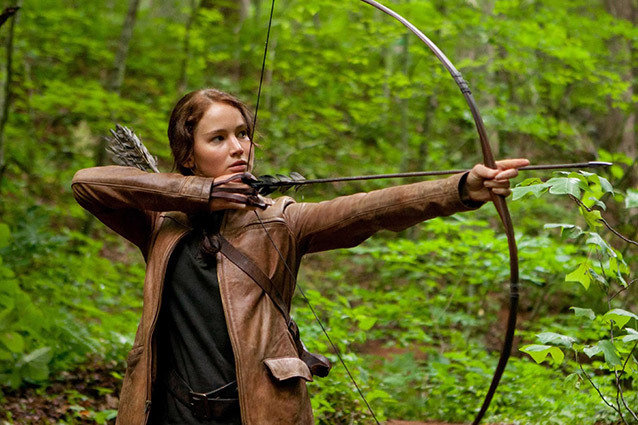 Lionsgate
Pick up your bow and arrow, because archery is having a major pop culture moment. Thanks to the popularity of The Hunger Games, archers are cooler than ever before.
But Jennifer Lawrence's Katniss Everdeen isn't the only pop culture hero (or heroine) reaching into a quiver. Here are the five coolest archers we love who are currently sparking an archery revolution.
Katniss Everdeen (The Hunger Games)
People of all ages started flocking to archery lessons after Katniss Everdeen burst onto screens in The Hunger Games. Why? Because Jennifer Lawrence made archery look really, really cool. As a competitor in the cut-throat Hunger Games, Katniss could bring one weapon along into the kill-or-be-killed reality show. Her choice was her trusty bow and arrow, perfected from years of hunting in the wilds of District 12.
Hawkeye (The Avengers)
Sure Iron Man might have his special suit and Thor might have his hammer, but Hawkeye still manages to be awesome with just a bow and arrow as weapons. Played by Jeremy Renner in the box office smash, Hawkeye is a force to be reckoned with even when fighting against powerful aliens with just an arrow.
Green Arrow (Arrow)
Speaking of Arrow, it turns out archery is a pretty popular superhero trait. As the lead of The CW's hit superhero show Arrow, Stephen Amell plays rich boy Oliver Queen, who has a more than passing knowledge of how to notch an arrow. He uses his alter ego Green Arrow to fight crime and get revenge on the corrupt leaders of Starling City.
Princess Merida (Brave)
In Disney's hit animated film Brave, Princess Merida doesn't want to sit around and be a proper lady. Instead she would rather run around shooting arrows, and she certainly has better aim than all of the boys around her. Thanks to Merida's bravery and talent, she manages to avoid getting betrothed to anyone she doesn't want and saves her family from an inconvenient curse. All while having the best hair of any animated character ever.
Legolas (The Lord of the Rings)
The original archer, Orlando Bloom's bow-wielding elf will return in the next Hobbit film to hit theaters. We've known since The Lord of the Rings trilogy that Legolas and his archery skills were cool, now he's returning to remind us.
What do you think? What other cool archers did we miss? Sound off in the comments!