'Hunger Games' Makes it Four in a Row!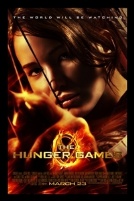 Lionsgate's "The Hunger Games" has amazingly topped the box office each day since its release and continued its reign through the weekend. This is the blockbuster's fourth consecutive weekend at the top of the chart with $21.5 million (the last film to top for four weekends was "Avatar" which had a seven weekend number one run). A 24 day total of over $337 million already places the film in the Top 25 all-time performers at the North American box office.
Proving that these Stooges are no dummies, Fox's updated spin on "The Three Stooges" had a better-than-expected $17.1 million debut. Directed by the Farrelly brothers, the beloved goofball trio of Larry, Moe and Curly, brings their particular brand of slapstick humor to a modern setting in this PG-rated homage to the legendary comedians.
In third place with $14.85 million is the well-reviewed R-rated horror entry "The Cabin in the Woods" from Lionsgate. Joss Whedon, who directs the upcoming "The Avengers," co-wrote the screenplay for the film that puts an inventive twist on the genre. The film should generate strong word-of-mouth in the coming days.
Paramount's 3-D big screen treatment of "Titanic" added another $11.625 million to its impressive bank account (dropping a mere 33%) bringing its North American total to $645.2 million. IMAX had a very strong $5.8 mil in the second weekend of Titanic's re-release, which includes $3+ million this weekend alone from China. After 12 days, IMAX global cume will be $13.6 mil, which is far ahead of expectations. China's overall IMAX gross in its first 6 days is approx $6 mil on 64 screens, which is a huge 6 day per screen average of $97k.
Universal's "American Reunion" heads into its sophomore weekend with around $30 million already in the college fund. The R-rated comedy sequel sliced off a Friday through Sunday box office gross of $10.6 million and winds up nearly $40 million in North America by Sunday night after just 10 days of release.
Debuting in ninth place with $6.25 million is Film District's PG-13 action thriller "Lockout" starring Guy Pearce.
This only the second "down" weekend at the box office this year with revenues this weekend down about 10% compared to the comparable weekend a year ago when Fox's "Rio" in 3-D debuted with a strong $39.2 million. YTD revenues still up an impressive 22% as we head toward the start of the summer season on May 4.
International box office news from Universal:
BATTLESHIP launched in 26 international territories this weekend and grossed a strong estimate of $58M.
The film opened No. 1 in 20 territories.
In South East Asia, BATTLESHIP is dominating the box office with No. 1 openings. It set records as Universal's biggest opening ever and the biggest opening of the year in Korea, Malaysia, Singapore and Thailand.
In addition to North America on May 18th, the film has 38 territories left to open overseas, including China and Russia next weekend and Latin America in May.
Weekend Box Office (Estimates)
Top Movies for Weekend of April 13, 2012
Movie Weekend Gross Total to Date
1 The Hunger Games (PG13) $21.5M $337.1M
2 The Three Stooges (PG) $17.1M $17.1M
3 The Cabin in the Woods (R) $14.85M $14.85M
4 Titanic 3D (PG13) $11.6M $44.4M
5 American Reunion (R) $10.6M $39.9M