'Hunger Games' Star Jennifer Lawrence: Her Follow-Up Horror Flick

It seems to be a trend that mega-stars of ultra-hit movie adaptations of super-books are following up there mondo-franchises with horror flicks. Daniel Radcliffe followed his Harry Potter finale, Deathly Hallows Part 2 with the haunted house movie The Woman in Black. And now, Jennifer Lawrence is following up her first Hunger Games film with a horror picture of her own: House at the End of the Street.
The first image from the film depicts Lawrence in as horror-stricken a state of being as humanly possible. The premise of the movie is as follows: Lawrence's character and her mother (
Elisabeth Shue
) move into the former home of several murder victims, only to find that the son of the victims still lives inside, secretly. Naturally, it's a romance. Seriously.
Lawrence and the boy (
Max Thieriot
) develop a romance that, as you might imagine, comes with a few tricky developments. Relationships with the psychologically damaged squatter who has been living secretly in your house where his entire family was brutally murdered always come with a few snafus.
The Hunger Games
is now in theaters.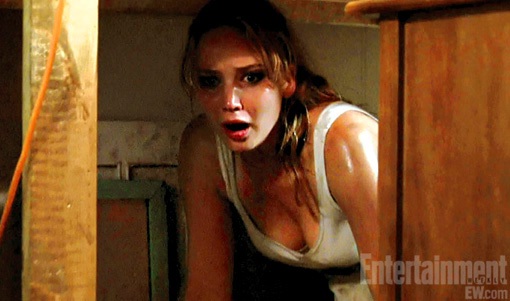 [EW]