'Hunger Games' Star Josh Hutcherson Goes 'Epic' — TRAILER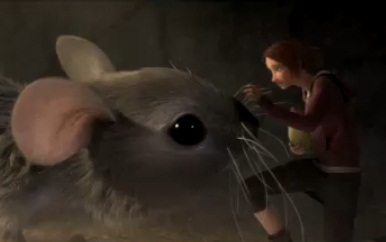 If film has taught us anything, it's that shrinking is a very real danger to the human population — especially in the locale of enchanted forests. The latest victim of this growing pandemic is Amanda Seyfried, who will happen upon the macroscopic beings comprising a magical woodland community in the upcoming animated film Epic, which has just released its first trailer. In Fern Gully fashion, human Seyfried looks to find a new home amongst the likes of hummingbird-riding warriors (The Hunger Games hero Josh Hutcherson included) and comic relief invertebrates (Aziz Ansari). Their world is more whimsical than anything she could have ever imagined, and there's surely a lesson to be learned in the process.
From The Incredible Shrinking Man through Honey I Shrunk the Kids, people sporadically becoming smaller has proven to be a relatively fail safe deliverer of cinematic entertainment. How does Epic look to live up to its predecessors?
The movie also stars Beyoncé, Colin Farrell, Jason Sudeikis, Pitbull, and Steven Tyler.
More:
'Brave' and the Princess Problem: Two Steps Forward, One Step Back
'Brave's Bear Moment and 18 Other Ridiculous Plot Twists
Be Bright, Be 'Brave': Pop Culture's Best and Worst Gingers