'Hunger Games' to Horror: Jennifer Lawrence's 'House at the End' Trailer — VIDEO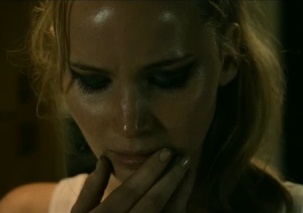 While The Hunger Games has proven to be a pretty profitable endeavor, star Jennifer Lawrence isn't taking the Daniel Radcliffe route and waiting until the series is over to branch out. But much like the Harry Potter headline, she is kicking off her new super-stardom with a horror flick (Radcliffe followed Deathly Hallows Part 2 with The Woman in Black). The first trailer for Lawrence's new movie, House at the End of the Street, has released its first trailer. And it looks as horror filmy as a horror film can possibly get.
Maybe it's not a coincidence that both Lawrence and Radcliffe chose this genre as a means to start disassociating themselves with Katniss and Harry respectively. Although both film franchises definitely play into the occult and the horrific (kids in a war-torn country trying to kill each other for sport…also, those hairdos), they are leagues from being classified as anything near "horror." The genre is an uncompromising, extremely polarizing one, — it shows a great deal of courage that Lawrence is willing to take on a risky project like this, but also a great deal of smarts. Horror is such a strong cinematic theme that it nearly overpowers its stars, no matter how big their names. Few things would remind you less of Katniss Everdeen than it seems like House at the End of the Street will.
The trailer for HATES (as it is branding itself — it seems unfair to include one "the" in an acronym but not the other) is a bit confusing, but pretty interesting. Check it out, and consider what you think about the first look at this post-Panem Lawrence. 
More
[MTV]