'Hunger Games' Tops Box Office Again with $61.1 Million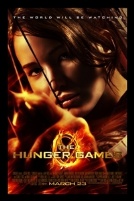 Lionsgate's "The Hunger Games" shattered expectations last weekend and delivered the third best opening weekend of all time (and the best ever opening for a non-sequel) with a mind blowing $152.5 million! With terrific word-of-mouth and critical praise the mega blockbuster had no problem topping the charts in its second weekend with a gross $61.1 million and a massive 10 day North American total of $251 million! Total international weekend box office is projected at $34.8M which will bring the international cumulative to an estimated $113.9M through Sunday.
"Wrath of the Titans" from Legendary Pictures brought its PG-13 rated wrath upon the multiplex with a debut of $34.2 million. The Warner Bros.' action fantasy sequel to its 2010 hit "Clash of the Titans" stars Liam Neeson, Sam Worthington got a boost from its release in 3-D and in the IMAX giant screen format that generates $4.7 million on 292 domestic screens – Global IMAX is $8.6M for the film.
Relativity Media had a PG-rated advantage this weekend with "Mirror Mirror" starring Lily Collins as Snow White, Julia Roberts as The Queen and Armie Hammer as the handsome prince Alcott. Offering a terrific alternative for families, the film is helmed by visionary director Tarsem Singh and had a debut of $19 million.
Sony's action comedy "21 Jump Street" has continued to be the number one R-rated comedy choice for moviegoers as it speeds toward $100 million at the domestic box office. A third weekend gross of $15 million brings its 17 day North American total to over $90 million by Sunday night.
Rounding out the top five, Universal's "Dr. Seuss' The Lorax" continues to cultivate the greenery with a fifth weekend gross of $8.0 million. The family and eco-friendly film is closing in on the $200 million mark and by the end of the weekend will have around $190 million in North American revenues.
Yet another "up" weekend (23.51% vs. comparable weekend a year ago) at the box office keeps us well ahead of last year's pace with YTD revenues up an impressive 20.34%.
Weekend Box Office (Estimates)
Top Movies for Weekend of March 30, 2012
Movie Weekend Gross Total to Date
1 The Hunger Games (PG13) $61.1M $251.0M
2 Wrath of the Titans (PG13) $34.2M $34.2M
3 Mirror Mirror (PG) $19.0M $19.0M
4 21 Jump Street (R) $15.0M $93.1M
5 Dr. Seuss' The Lorax (PG) $8.0M $189.6M