'Hunger Games' Tops Easter Box Office!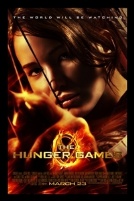 Easter weekend is another solid one at the nation's theaters as "The Hunger Games" from Lionsgate continues its amazing run and tops the chart for the third weekend in a row with a gross of $33.5 million. This gives the box office behemoth a monstrous 17-day total through Sunday of $302.8 million in North America.
It's been almost 10 years since the "American Pie" gang last saw the inside of a multiplex and the whole crew is back in Universal's "American Reunion." The R-rated comedy marks the fourth installment of the highly successful comedy franchise which has earned over $750 million worldwide. The film sliced off a solid $21.5 million in North America and $19.3 million in 28 international territories for a global debut of $40.8 million.
Paramount gives the 3D treatment to one of the most beloved movies of all-time as James Cameron's 1997 "Titanic" sets sail in 3D for the first time ever. Having held the title of highest grossing movie of all-time for over a decade, the film is a perfect candidate for the big screen 3D re-release treatment and sunk another $17.35 million into its massive bank account this weekend. Opening on Wednesday, the film earned $25.7 million in its first five days. The James Cameron connection is evident as IMAX has 9 of the top 10 locations for the film earning $2 million in 79 theaters.
"Wrath of the Titans" from Warner Bros.' enjoys a second weekend gross $15.0 million as it capitalized on solid mid-week numbers. The sequel to 2010's "Clash of the Titans," the PG-13 rated action fantasy is nearing $60 million by Sunday night.
Relativity Media's PG-rated "Mirror Mirror" benefited from strong family movie-going over Easter weekend with a gross of $11 million and passes the $35 million mark after just 10 days of release.
Sony's action comedy "21 Jump Street" had its fourth weekend just outside of the Top 5 with a gross of $10.2 million in its fourth weekend and crossed the $100 million mark in the process.
Yet another fantastic weekend at the nation's theaters, with YTD revenues and attendance "up" over last year in the 20 percent range.
Weekend Box Office (Estimates)
Top Movies for Weekend of April 6, 2012
Movie Weekend Gross Total to Date
1 The Hunger Games (PG13) $33.5M $302.8M
2 American Reunion (R) $21.5M $21.5M
3 Titanic 3D (PG13) $17.35M $25.7M
4 Wrath of the Titans (PG13) $15.0M $58.9M
5 Mirror Mirror (PG) $11.0M $36.5M