'I Don't Know How She Does It' Screening Giveaway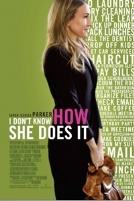 After embodying the modern woman through six seasons and two feature films as Carrie Bradshaw on Sex and the City, it's safe to say that Sarah Jessica Parker has amassed a legion of fans who follow her every move. And why wouldn't they? This glamorous gal is an exemplary individual; a working mom balancing a long-term relationship and family of five, a UNICEF Goodwill ambassador and a prominent member of Hollywood's Women's Political Committee. Yet with a full plate like that, she still manages to make big movies. I don't know how she does it!
And that, folks, is what we're here to talk about today: Parker's new film from the Weinstein Company. I Don't Know How She Does It centers on Kate Reddy (Parker), a financial executive a breadwinner of her own family, comprised of husband (Greg Kinnear) and two kids. It's based on a best-selling novel by Allison Pearson and comes to the screen via the writer of The Devil Wears Prada and director Douglas McGrath (Emma). As if SJP fans weren't already excited about the film's upcoming release on September 16th, today we're giving you the opportunity to host a special screening for you and your friends!
Here's what you can win:
One (1) lucky winner will get to host a special, local screening of I Don't Know How She Does It for him/herself and 10 of their friends!
Here's what you need to do to win:
1. Head over to the film's official Facebook page and "like" it.
2. Head over to Hollywood.com's Facebook page, "like" it and leave a comment in the corresponding post promoting this giveaway telling us why you're the biggest Sarah Jessica Parker fan.
That's it! Winner will be chosen randomly on Friday, September 9th and contacted via Facebook!
Now check out the trailer for I Don't Know How She Does It below and tell us all about your love of the film's star on Facebook!
Click here for Rules and Legal Agreement