'Ice Age' Drifts to No. 1 at the Box Office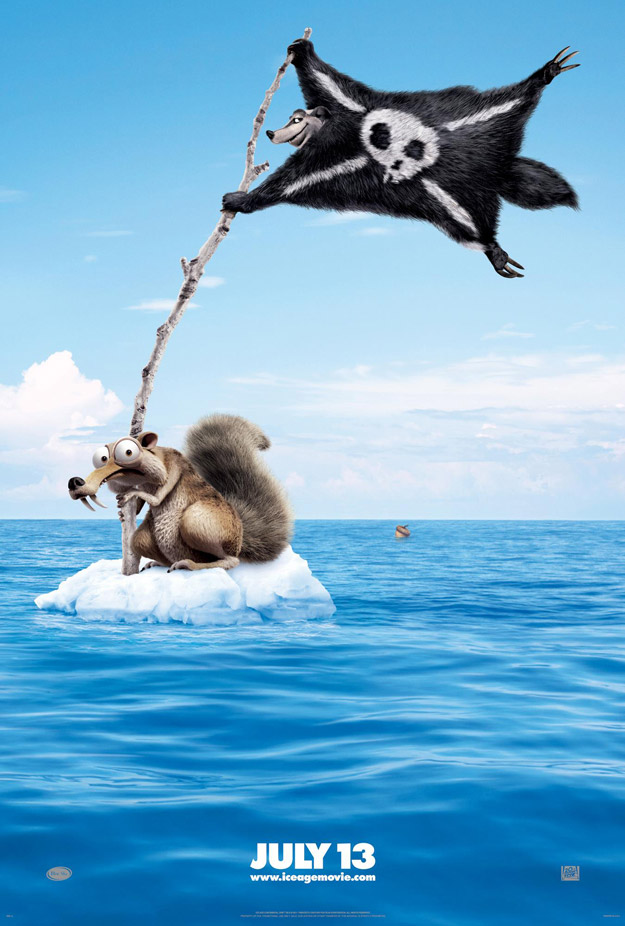 Ice Age: Continental Drift left the competition out in the cold this weekend. The animated feature topped the North American box office with a whopping $46 million. The family-friendly Twentieth Century Fox film got off to a strong start, earning an impressive $16.5 million on Friday night alone. Meanwhile, The Amazing Spider-Man is still doing pretty, well, amazing despite falling to the no. 2 spot. The superhero reboot earned $35 million, helping it pass the $200 million mark in its second week of release. Here's how the rest of the top 5 played out at the box office this weekend: 
1. Ice Age Continental Drift: $46 million 
2. The Amazing Spider-Man: $35 million/ $200.9 million to date 
3. Ted: $22.1 million/ $159 million to date
4. Brave: $10.7 million/ $195.5 million to date
5. Magic Mike: $9 million/ $91.8 million to date
Being the only new wide release this weekend, Ice Age: Continental Drift, which opened in 3,880 theaters, did better-than-expected business in North America. The film has been playing in international territories since the weekend of June 29 when it shattered box office records on its way to a $78 million opening weekend from 9,505 screens and #1 debuts in all 34 markets. The third weekend into its international release has proved to be another amazing feat for the feature, having earned $95 million from 14,131 screens in 64 markets. (Ice Age is currently the no. 1 film in 30 of 37 markets and has overtaken The Amazing Spider-Man at the international box office.)
The film had already taken in $320.5 million internationally and worldwide at $521.4 million even before setting one big animated foot in North American theaters where family audiences have had a seemingly insatiable appetite for high profile animated 3D films. A case in point: When Disney's Brave entered the marketplace and its opening weekend was bigger-than-expected (a $66.7 million debut), Paramount/Dreamworks Madagascar 3 still performed well without taking the anticipated third weekend dramatic and competition-induced drop (it dropped a mere 42 percent after a $60.35 million debut). 
Impressively, the Ice Age franchise has taken in a whopping $2.1 billion-plus at the worldwide box office and nearly $600 million in North America. In addition, the first three films including March 2002's Ice Age ($46.3M opening) , March 2006's Ice Age: The Meltdown ($68M opening) and July 2009's Ice Age: Dawn of the Dinosaurs ($41.7M opening) all performed like champs drawing huge numbers of kids and parents to North American theater screens. Keeping in mind that there were two animated films still playing in the marketplace (including of course the aforementioned Brave and also Madagascar 3), the expected opening weekend gross in line with the first and third installments was to be expected in the $40 million range. 
Even more impressively, Ice Age climbed over The Amazing Spider-Man hurdle. The Andrew Garfield and Emma Stone superhero reboot hit the $400 million mark worldwide on Wednesday, July 11 and also edged near the $160 million threshold in North America on the same day. The film had a pre Fourth-of-July record Tuesday opening day gross of over $38 million on July 3, earned $62 million for its Friday through Sunday and $137.0 million for its first six days in North America where it continues to elicit strong word-of-mouth and critical praise. The expected second weekend gross was it in the $30 to $40 million range, which is where it landed. 
This brings us to that adorable, foul-mouthed and much beloved teddy bear of Seth MacFarlane's Ted. The Universal Pictures enjoyed a weekend that pushed it over the $150 million mark. Starring Mark Wahlberg and Mila Kunis, the unadulterated goofiness of the concept has had audiences buzzing for weeks as the date-crowd continues to line up at theaters. The red band trailer, a great overall marketing campaign as well as social networking buzz helped push the film into the record books with the biggest R-rated comedy non-sequel debut ahead of the original The Hangover ($44.979M) and the third highest R-rated comedy debut ever behind just The Hangover 2 ($85.9M) and Sex and the City ($57.038M).
Disney/Pixar's 13th movie release, Brave in 3D entered its fourth weekend with over $180 million as it continues to hit the box office bullseye in North America thanks to its $10.7 million weekend. No question that Ice Age film provided formidable competition to this veteran of the family marketplace and thus Magic Mike took fifth place bragging rights with $9 million, as it nears the $100 million mark. Savages lost its spot in fifth place and fell to sixth with an as-expected $8.7 million. 
Next weekend's box office will get even more interesting as perhaps the most anticipated movie of the year, The Dark Knight Rises from Warner Bros., arrives in theaters on July 20.
More: