Will Oscar Weekend Be Stolen by 'Identity Thief?'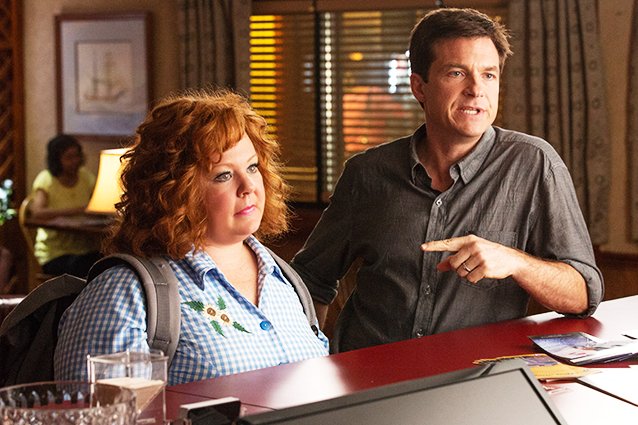 Oscar weekend is upon us, which means all eyes will be on Hollywood's version of the Super Bowl with Oscar contenders making a final stand at the box office before the telecast on Sunday night.  Dwayne Johsnon will also see the debut of his action crime drama Snitch, and Keri Russell appears in the horror entry Dark Skies.
Fortunately for Melissa McCarthy and Jason Bateman, Identity Thief is not held up to Academy Award standards but rather the popular vote, which gave the R-rated comedy a number one debut two weeks ago and a President's Day weekend near-upset over A Good Day to Die Hard.  The comedy enters its third weekend with close to $80 million in the bank and ranks as the highest-grossing film released this year. A trip back to the number one spot could be in the cards this weekend with an expected gross in the high teens and total domestic gross of more than $90 million by Sunday night.
RELATED: Box Office: 2013 Off to a Slow Start
But hold on a minute: Bruce Willis ruled President's Day weekend smashing up about $36.9 million in A Good Day To Die Hard's first five days.  This weekend the latest Die Hard installment will tangle with Thief and make a run at the top spot with a mid-to-high-teen gross. The action film will pass the $50 million mark by the end of the weekend and thus become the highest grossing R-rated action flick released in 2013 thus far.
RELATED: America Elects 'A Good Day to Die Hard' on President's Weekend
As one of two wide release newcomers, Snitch will debut in 2,511 theaters on Friday.  Starring Dwayne Johnson in another kickass, take no prisoners role, Snitch follows a father whose teenage son is wrongly accused of drug trafficking, forcing him to infiltrate a drug cartel to get his boy off the hook. Co-starring Susan Sarandon and Benjamin Bratt, the PG-13 action crime drama is expected to gross in the $10 million to $12 million range.
The other wide release newcomer is Dark Skies, the PG-13 rated horror sci-fi thriller starring Keri Russell as woman affected by disturbing events in her once-peaceful suburban existence.  The film co-stars Josh Hamilton and will try to capitalize on being the only new horror movie in the marketplace since the hit Mama debuted back in mid-January.  It should wind up with a gross in the high single digits or potentially a bit higher.
Looking for love this Oscar weekend will be the Nicholas Sparks big screen adaptation of Safe Haven, which opened at number one on Valentine's Day and made a solid showing, placing third over President's Day weekend with $24.5 million and $33.3 million in its first 5 days.  In this, its second weekend, a gross in the $10 million range will give a shot at a spot in the top 6.
Now on to the Best Picture nominees that will be making their mark this weekend: Silver Linings Playbook (no. 7 last weekend – $100.87M thru 2-20), Zero Dark Thirty (no. 10 last weekend – $89.0M thru 2-20), Argo (no. 12 last weekend – $127.6M thru 2-20), Life of Pi (no. 13 last weekend – $111.7M thru 2-20), Lincoln (no. 14 last weekend – $176.96M thru 2-20), Django Unchained (no. 15 last weekend – $157.65M thru 2-20), Les Miserables (no. 19 last weekend – $145.96M thru 2-20), Amour (no. 20 last weekend – $4.27M thru 2-20) and Beasts of the Southern Wild (no. 31 last weekend – $12.34M thru 2-20). 
If not for the strong performance of this year's crop of Oscar-nominated films, we would be looking at a much bigger year over year deficit than the 7 percent we are currently experiencing. Notably the North American box office total for all nine Best Pic conteners is a whopping $926,518,816, and this weekend should see all of them getting a nice lift as people scurry out to catch up on their moviegoing before Sunday's awards are handed out.
[Photo Credit: Universal Pictures]
---
From Our Partners:



25 Forgotten Celebrity Crushes of the '90s (Vh1)