IMAX President Greg Foster Talks 'Mission: Impossible – Ghost Protocol'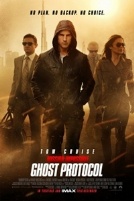 Now that Thanksgiving weekend – traditionally a tremendous box office frame for everyone involved in the film industry – is over and done with, all eyes are on the big Holiday releases that Hollywood prepares to unleash upon the masses. Perhaps the biggest and most-anticipated of them all is Paramount's Mission: Impossible – Ghost Protocol, the fourth entry in Tom Cruise's blockbuster spy saga. As massive as the three previous films in the series have been, this one promises a scale and scope nearly unmatched by anything that has come before it, and part of that is due to the use of IMAX cameras. Director Brad Bird shot numerous sequences for the movie in the plus-sized format, and anyone who has previewed footage can tell you that it's remarkable. 
So what does the IMAX Corporation think about having such a heavy presence in what is sure to be one of the highest-grossing films of the year?
Greg Foster
, Chairman and President of Filmed Entertainment as well as its biggest fan, can shed some light on what's so special about seeing
Mission: Impossible – Ghost Protocol
in IMAX, why the premium price pays off for exhibitors, movie studios and audiences, and how the stars aligned to make the new Mission the best yet.  
Paul Dergarabedian:
So Greg, what exactly do you call this advanced release of
Mission: Impossible – Ghost Protocol
? This is a new release strategy so it seems we're kind of in no-man's land…
Greg Foster: It's being referred to as previews. In IMAX, it's coming out five days early in the U.S. and Canada. In other territories, it's coming out a variety of days early depending on the market, and the opening date internationally.
PD: What does the advanced release of Mission: Impossible – Ghost Protocol mean for IMAX? Just how different is this from anything you have done before?
GF: Well, we certainly have never done anything like this before in the U.S. We actually have done it on a test case basis in several international markets, including Russia, France, the Netherlands, Mexico, etcetera. And it has worked quite well. Our theatre network is large enough to make a positive marketing and financial impact on the film. The 300 IMAX theatres that will open on the 16th will act as an extra boost of marketing energy for the film and theaters that are going to get the movie five days later on the 21st. And once the film opens wide on our entire 500 screen network, those theatres will only further compliment the film's overall release. It' s a "win/win" scenario. It only really works if you're working on a film that is legitimately unique and differentiated, like Mission: Impossible is, with IMAX. This is not a plug-and-play movie. We have been involved in the design and making of this movie with the filmmakers for the last two years. So, about thirty minutes of the film is shot with our cameras. Brad Bird is a complete IMAX showman. You met him in ShoWest, so you know. 
J.J. Abrams
and his partner and our good friend Bryan Burk, at Bad Robot, are also big IMAX supporters. We've done several movies with them, including
Star Trek
and
Super 8
. And, so, when you take that and combine it with Tom Cruise, who we have a long relationship with—he narrated one of our films, and has been a big supporter of ours—you've got filmmakers who love us and get us, you have approximately thirty minutes of the film shot with our cameras and you have a bigger aspect ratio in IMAX than you do in the other non-IMAX locations. So, you have something that really puts the film and the filmmakers' best foot forward. Not to mention,
Mission: Impossible
has a definite franchise fan appeal. So, there are going to be people in line, going crazy at midnight on the 15th, waiting for the screening to start at 12:01 on the 16th. And they're going to actually be able to truly see something unique that they won't be able to see anywhere else. And that's why doing this organically makes so much sense.
PD: It's going to be in IMAX first. So, if people want to see this movie early, they have got to come to IMAX. That's huge for your company, and doesn't it speak to the exclusivity, value and prestige of the format?

GF: It is. It's obviously a thing that we are very happy about. We've been working extremely hard on making this happen. Again, it's not a coincidence that it's happening on this particular movie. With that said, it's the first time it has happened in the U.S., and we're going to see how it goes. We're a part of the exhibition/distribution community. We're looking to bring people in to see the movie. And if we succeed and everyone else doesn't, we still lose. Our partners are exhibitors. So, 300 of these screens are going to have the IMAX version on December 16th. But we want the movie to be incredibly successful on December 21st everywhere. We want it to have strong legs, and play for weeks and weeks—not only in our theaters, but in other theaters as well. I won't pretend that it's not a really terrific thing for us, but at the same time, we hope that we are a small piece of Mission Impossible's huge success.
PD: That's very well put. And also, I would imagine that putting the movie's best foot forward by going out in IMAX will prime and excite audiences to see it in the regular format as well. So, it seems like a mutually beneficial situation.
GF: It's almost as if it's a limited release. You have a movie, and obviously Mission: Impossible is a completely different type of movie, but like The King's Speech. Or Midnight in Paris. And it comes out in a limited number of locations. The word of mouth builds. Everyone realizes, "Hey, this is a terrific movie." And then it starts widening its release, and they cast a much bigger net. Because the ambassadors who saw the movie early have fed their constituency of other moviegoers, and said, "Hey, I saw this movie, you should really check it out." So, I hope that, and expect that, this is what will happen on December 16th, 17th, 18th, 19th, and 20th in IMAX. People will see the movie, have great things to say about it, and pass it on.
PD: I think, like you said, it's good for everybody, but I think you may get some people—are there people out there who have never been to an IMAX presentation?
GF: Sure.
PD: [Will they] come to this and see the light in terms of how great that experience is?
GF: When we open a movie, we usually represent somewhere between 1% and 2% of the number of screens playing the film. As you know, we usually do somewhere between 10% and 15% of the opening weekend box office, which means that somewhere between 85% and 90% of the opening weekend box office isn't coming from IMAX. And there are still people who haven't been to an IMAX show. There are not any big cities that don't have IMAX, but there are some big towns that don't have IMAX. And so, we grow our network through our digital projection system and our expansion. This will be the widest release we've ever had, and hopefully three or four months from now we'll have an even wider release. And the biggest one will likely be in 2012 as we have several huge movies on our slate. It will be The Dark Knight Rises, and it will be The Hobbit, the new Spider-Man, etc. But the point I'm making is, as we begin to expand into various markets, markets that you wouldn't have thought of necessarily as IMAX locations five years ago, we're now finding tremendous demand for our premium experience. For instance, we have one theater that opened less than a year ago in Wichita, Kansas. It's a Warren Theatre. Bill Warren is the exhibitor. It has been open since Tron: Legacy, less than a year ago. And I'm not kidding you: the IMAX screen has done approximately $3 million in ten months. One screen!
PD: To quote Keanu Reeves, "Whoa."
GF: This one location. When a movie plays there that is IMAX, that movie complex usually ends up being in the top twenty in the country.
PD: Why is that? Why there?
GF: Because Bill Warren gets it and is a showman like you can't believe. It's got huge IMAX signage. But more importantly, he took a market that really doesn't have a lot of destination-based movie theaters, and made this the epicenter of movie-going in Wichita. So, there was an example that Phil Groves, our global head of distribution, found the other day that I thought was really telling and interesting. Thor and Captain America had very similar opening weekends, and similar ultimate grosses. Both came out in the summer; one in the beginning of the season and one at the end. The difference between the two movies: one was in IMAX (Thor), one wasn't (Captain America). When Thor came out in Wichita, that complex was in the top fifty. I don't remember the exact number, but it was in the top fifty. When Captain America came out in July—again, about the same box office opening weekend as Thor—four hundred something was its ranking. So, this guy had figured out, this is the way to become the destination of movie-going in smaller markets. And that is something that we're focused on. I presume you haven't seen the 17 ½ minutes of Mission: Impossible footage yet?
PD: No.
GF: Just wait until you see it.
PD: I saw the initial trailer. It blew me away.
GF: Just wait until you see this footage. You'll understand what all the fuss is about. It's something special.
PD: Now, can you talk about something that's sort of interesting to me? Brad Bird seems like a very unique choice for this. Why Brad Bird? When you think about it, it makes brilliant sense. But on the face of it, you go, "This guy is an animation director." How does his sensibility bring something unique to Mission: Impossible – Ghost Protocol? How does that translate on the giant IMAX screen?
GF: Well, he is a major IMAX maniac. Brad is a big believer in the theatrical experience. He's not a guy who believes that movies should come out on television screens at the same time as they come out theatrically. He is from the old school in that when he designs and makes a movie, he makes it for those big, giant show palaces that we all grew up going to. I remember where I was when I saw Star Wars. I remember where I was when I saw The Lord of the Rings for the first time. That's how Brad Bird's mind works. He's all about this big, giant experience for a big, giant movie. And so, when he was approached to do this film by J.J., Bryan, Tom and Paramount, he did so under the auspices of not wanting to make a fourth version of Mission: Impossible that isn't something unique and special. He had a vision for this movie. And everything about this movie is big. They go to the tallest building in the world. It's the biggest shutdown of the Interpol, basically, ever. Ghost Protocol and the CIA. It is shot with our cameras—the biggest cameras out there. It's on our screens. And he's very focused on film. He didn't shoot the movie digitally; he shot it with film cameras. So, Brad came to it with an approach of, "I want to do this. I want to make a cool, hip, fresh movie, but I want to make it the old fashioned way." So, that worked! The good news is that it's with Paramount, and we love working with them. Paramount has just been an amazing partner, and has embraced this unique release strategy in IMAX, and we're thrilled by that.
You can buy tickets for Mission: Impossible – Ghost Protocol in IMAX starting Monday, December 5.