In Defense of 'Django' Director Quentin Tarantino's Worst Movie, 'Death Proof'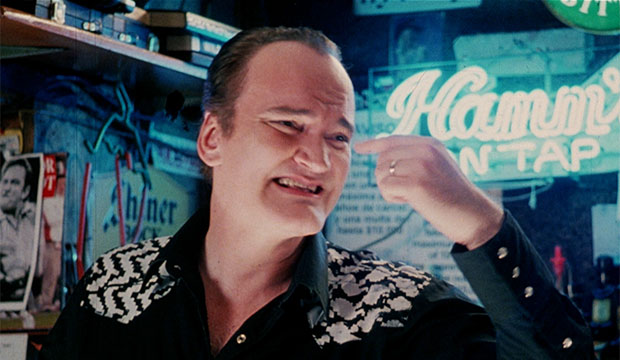 Trimmed trees, roasted turkeys, and awkward forced interaction with less favorable relatives are not the only earmarks of this season. The other unwelcome "relatives" bombarding you at the end of each year are the best and worst of the year lists that crop up around the internet. These barometers for twelve months worth of cinema take the subjective nature of film and amplify the nebulous distinctions of best and worst. So what happens when a filmmaker alludes to the best and worst of their own filmography?
Recently, The Hollywood Reporter conducted an hour-long roundtable interview with some of cinema's most formidable directors. In attendance were Gus Van Sant, Ang Lee, David O. Russell, Tom Hooper, Ben Affleck, and Quentin Tarantino. During the discussion, which was largely dominated by Tarantino, the Django Unchained helmer made some unexpected remarks about his career, where he'd like it to end, and how it may be evaluated up to this point if he were to cease making films today.
 "To me, it's all about my filmography, and I want to go out with a terrific filmography. Death Proof has got to be the worst movie I ever make. And for a left-handed movie, that wasn't so bad, all right? So if that's the worst I ever get, I'm good. But I do think one of those out-of-touch, old, limp, flaccid-dick movies costs you three good movies as far as your rating is concerned. It's a grade point average."
The problem that can arise with Quentin Tarantino in interviews is that his thought process is so frenzied that, at times, even he can't keep up with himself. He's not actually saying definitively that Death Proof is his worst movie (something he's ashamed of), but rather voicing the imperative that he never allow himself to rest on his laurels and make a film of lower quality than this designated benchmark. It's admittedly a finite distinction, but an important one. That being said, he does refer to it as a left-handed movie and possibly even — depending on whether his manic chain of logic remained on Death Proof in the next sentence — limp, flaccid movie.
There is something to be said for being self-effacing. Heaven knows nothing has the potential to sour a film fan on a great artist faster than that artist's staunch and continual insistence that they are in fact great. But how exactly was Death Proof a left-handed movie? Labeling it as such speaks to the notion of his being hindered in some profound way during the production, and one wonders to what he is referring. Was it the fact that it was half of the Grindhouse anthology? Given the fact that the current cut of Django Unchained is running over three hours long, perhaps Quentin indeed felt stifled by his paltry 87-minute runtime.
Arguing whether or not Death Proof is Quentin Tarantino's worst film is fruitless for multiple reasons. Again, we're talking about an extremely subjective classification here. We're also talking about a director with a total of roughly seven released feature films to his name; the count getting a bit ambiguous depending on the possible inclusion of Four Rooms and the reasonable consideration of Kill Bill Vol.1 and Vol. 2 as one film. Not to mention the fact that Tarantino's batting average with both general audiences and critics is remarkably high. Therefore assigning Death Proof the notation as his "worst" movie is akin to picking the least succulent cut of meat at the finest of steak houses. However, there is a certain maligning of Death Proof that this writer feels is categorically unwarranted.  
Fans of Quentin Tarantino have come to recognize and adore certain of his recurring quirks. Like many of us, he is a ravenous consumer of all things film and has been for many years. He builds his violent crime stories and embeds them with reverent flourishes of some of his favorite moments from cinema history. Death Proof epitomizes every chromosome in Tarantino's DNA. His affinity for the most niche b-cinema is present not only in the references and subject matter, but this time around more overtly in the inserted scratches and intentionally poor editing. The jukebox at the Texas Chili parlor blasts reminder after reminder of his eclectic musical taste, and the dialogue is elaborate and engrossing even in its caustic simplicity. His penchant for reviving actors who have been long absent from the spotlight is also functioning with the casting of Kurt Russell.
Here's where it tends to lose people. In many ways, Death Proof is Tarantino's id. This film is his auteur soul ceding ground to his unfettered, jubilant inner geek. It's his ultimate neo-drive-in flick. He dresses Russell up like an amalgam of some of the most exaggerated gear head characters of 1970s film and TV, and he makes one of his central characters a DJ so that the music cues are as diverse and bountiful as even in his much longer films. He literally builds a jukebox playlist. Also, the first half of Death Proof is his unabashed love letter to Austin, Texas; a place he reveres as much as, if not more than many of us who live here. Tarantino's tendency to construct compelling and fiercely strong female characters is extrapolated into this no-frills, homage-heavy "girls who kick ass" conceit.
Death Proof may not seem as carefully sketched and painstakingly executed as Pulp Fiction or Inglourious Basterds, but that's not to say it is bereft of artistic merit. The shot composition, especially in the latter half of the film, is stellar and draws from the likes of Italian giallo and German expressionism. Quentin makes the bold choice to cast stuntwoman Zoe Bell, who doubled for Uma Thurman throughout Kill Bill as an actress in the second chapter and the gamble pays off in the form of an immensely endearing and supremely natural performance. This choice also affords him the opportunity to craft some of the most impressive and dizzying car stunts this side of a George Miller film. That entire chase/muscle car chariot race alone flies in the face of Death Proof's marginalization.
 So why would he indirectly, or maybe extremely directly depending on your decoding of his stream of consciousness, call Death Proof his worst? It is possible that these comments are symptomatic of his growing insecurity about his longevity as a quality filmmaker. Recently, in an interview with Playboy, he mentioned not wanting to reach a point where he is too old to enjoy the specific creative process to which he has become accustomed. He speaks of this during the roundtable as well, but in the Playboy article he actually quantifies it by suggesting ten films would represent a good stopping point. That would be, ostensibly, just two movies beyond Django Unchained. That sentiment is further supported by his comment about "grade point averages."
 He goes on to remark in this roundtable response that he's tremendously terrified of failure. Perhaps that's why the notion of even less-than-astronomical success is chalked up in his mind as a poor film. Whether his fear of failure or his desire to cash out before losing all his credit is a function of those who have enjoyed his caliber of success is a question for social psychologists. Regardless, fans of Death Proof certainly have cause to take issue with his overly modest under-selling of the movie. It's clear that his years of acclaim have not engendered within him a sense of complacency — and that is something for which we can be thankful as the release date of Django Unchained approaches.
[Photo Credit: The Weinstein Company]
Follow Brian Salisbury on Twitter @BriguySalisbury
More:
'Django Unchained' Gifts Us Bloodshed, Laughs, and Crazy Leo DiCaprio for Christmas — TRAILER
Comic-Con 2012: 'Django Unchained' Shows Off Bloody Fun with Oscar Potential
'Django Unchained' Star Jamie Foxx Calls Tarantino a 'Hip-Hop Artist'
You Might Also Like:

Cory and Topanga Are In! Big 'Boy Meets World' Spinoff News

'Star Wars' Spin-Offs: Could a Boba Fett Movie Happen?