In the Middle of a Gun Violence Epidemic, 'Blue Caprice' Hits Sundance Hard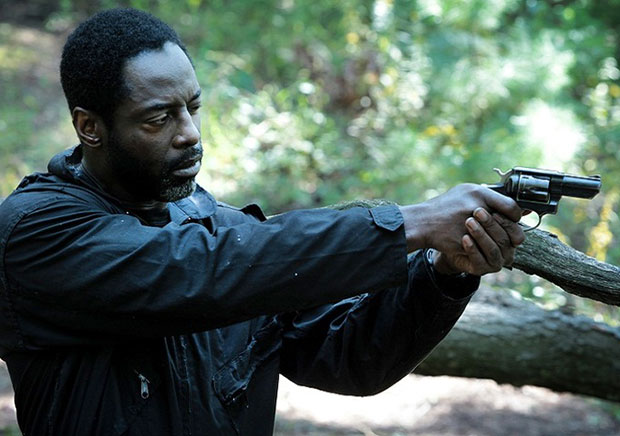 On Friday, the first day of the Sundance Film Festival, I was standing in line for a movie when suddenly, there was a loud, rapid fire string of popping sounds. Smoke erupted from one side of the enclosing tent. Someone yelled, "Run!" The crowd screamed in unison, dropped as low as it could, and stampeded over the line-managing metal gates. People flooded the parking lot. I hid behind a car for safety, hoping whatever was happening had ended. Turns out, it was just a fire extinguisher that had burst.
These days, we're all on edge. Like myself, bystanders in the Sundance tent reacted to the shot-like sounds quickly, memories of news headlines from the last six months triggering survival instincts. That awareness makes the debut of Blue Caprice particularly unsettling. From director Alexandre Moors (who recently co-directed the short film Cruel Summer with Kanye West), the film tracks the year-long lead up to the 2002 Washington D.C. Sniper shootings, a string of murders known for its seemingly random nature. When the duo behind the killing spree,"Nation of Islam" member John Allen Muhammad and the 17-year-old Lee Boyd Malvo, were finally captured, both men remained silent on their motives. Even so, Moors and writer R.F.I Porto seize historical info to fictionalize and fill in the blanks for Muhammad and Malvo. Why would anyone commit such a heinous act? Blue Caprice presents a possible, frightening reason.
Isaiah Washington stars as Muhammad, who meets Malvo (Tequan Richmond) after breaking a restraining order, kidnapping his three young children from their mother, and fleeing to Antigua. Muhammad takes Malvo under his wing, and when time jumps forward five months and the father figure is forced to give up his actual children yet again, he clings to the wayward teenager. Muhammad sees a second-in-command in Malvo, a soldier worthy of his cause. That drive is ambiguous; Muhammad seeks revenge against his ex-wife, but also despises society. Chaos, he believes, his only weapon, and when the two men cross paths with an Muhammad's old, gun-toting buddy, a plan becomes clear and inevitable.
Often clinical and cold, Blue Caprice confidently reflects on a subject that few would voluntarily embrace. Washington gives himself over to Muhammad — we know there's something wrong behind his eyes, that rational thought was replaced by twisted logic long ago. Muhammad is a rambler of grandiose ideas. He's convinced that by shooting men, women, and children at random, that other misfits from around the nation will join him to form an anarchistic army. Malvo believes him too. After months of mental degradation, through Muhammad's inspiring words, the man's rigorous training schedule, or instances of physical torture (at one point, Muhammad binds Malvo to a tree and leaves him there to break his way out), the teen sees eye to eye with Muhammad. Murdering strangers becomes his purpose. And he's good at it.
Moors styles Blue Caprice with a gritty palette, precision angles, and a dissonant soundscape that builds up the pressure. Often, the director strips everything away from the movie, allowing our fear to complicate his character's journey. After picking off their first few victims, Moors follows Muhammad and Malvo's signature vehicle, a shoddy, blue Chevrolet Caprice as it cruises along the Capital Beltway. The car exudes evil — not too far off from the killer truck in Spielberg's Duel or Stephen King's Christine. As they travel from place to place, It becomes quickly apparent that catching the murderous pair (as we know police eventually do) will be a stroke of luck.
Blue Caprice functions independently as a searing drama, but the current climate makes it even more powerful. The film provokes questions: were Muhammad and Malvo ignored by people who could have prevented their rampage? Did the accessibility of firearms enable them to carry out the plan? Would they have eventually found a way to hurt others even if guns weren't part of the equation? In one scene, Washington and Malvo wrestle in the woods, violently pinning each other with rabid fury. This is their preparation, their normal state. In another movie, they might be Batman's diabolical villains. But they're real people, and they're the reason people today continue to watch their backs and run at the slightest popping sound.
Discussions over gun violence and control in the United States is susceptible to sensationalism. It's a big picture conversation born from the actions of individuals. Blue Caprice wisely avoids connecting itself to those grand ideas, instead focusing on the people. We may never fully settle from what's happened in the past decade — as evidenced by the hysteria of the Sundance tent incident — but thanks to Blue Caprice, we can, at the very least, understand the root of the problem.
[Photo Credit: SimonSays Entertainment]
Follow Matt Patches on Twitter @misterpatches
More:
Daniel Radcliffe Proves Himself a Star in Sundance's 'Kill Your Darlings'
Sundance's 'Breathe In': Homewreckers Are the New 'Manic Pixie Dream Girls'
Can't We Get Sundance Star Jennifer Coolidge Her Own Movie Already?

100 Hottest Women of the Century: Do You Agree?