'Independence Day' Sequel Plot Details: Wormholes, Time Jumps, & a Reason For Will Smith To Return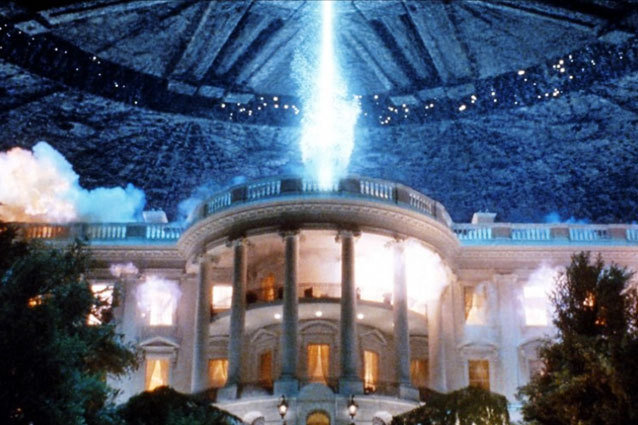 It's time for a little nostalgia explosion. Literally. Independance Day (and  Independance Day sequels) director Roland Emmerich recently spilled details about the upcoming sequels, ID Forever Part I and ID Forever Part II, in an interview with EW. 
While we already know Bill Pullman, who played the President in the original 1996 movie, has said he's returning (and in a capacity that won't find him in a wheel chair), the big question is whether or not the film's star Will Smith will be around to welcome this second round of aliens back to Earf.
RELATED: Back to Back ID4 Sequels
According to Emmerich, there will be one very good reason for Mr. July to come back for some more alien action: his character's stepson will be the protagonist of Emmerich's return to alien-infested America. "It's still some of the same characters, but also new younger characters; it's a little bit like the sons take over," says Emmerich. It's a move that will allow the show to go on should Smith be unwilling to take on the project.
But what about the aliens? Well, Emmerich says they will travel back through a wormhole, meaning that while it's been about 20 years in Earth time since we last saw the galactic tormentors, it may have only been a few weeks for the aliens. Basically, we're looking at the alien equivalent of that wasp you swatted away before he came back twice as angry (duh, that's why they need two sequels). 
As a way to match that anger, however, the humans have managed to make use of some alien technology. "It's a changed world. It's like parallel history. [Humans] have harnessed all this alien technology. We don't know how to duplicate it because it's organically-grown technology, but we know how to take an antigravity device and put it in a human airplane," he says.
RELATED: What To Do With Independence Day Sequel
Of course, while the aliens may have only been away for a few weeks, Emmerich insists they've got some new tricks up whatever they have in lieu of sleeves, meaning there should be plenty of material for both sequel films. "We've rebuilt … But [the aliens] also do different things," says Emmerich.
But without Smith around to employ timeless techiniques like punching aliens in the face, can we really get into all this world-engulfing alien action? 
Follow Kelsea on Twitter @KelseaStahler
[Photo Credit: 20th Century Fox]
---
You Might Also Like:


15 Oscar-Winning Nude Scenes


10 Insane 'Star Wars' Moments You Didn't Notice