Indie Seen: 'Margaret,' the Long Lost Anna Paquin/Matt Damon Movie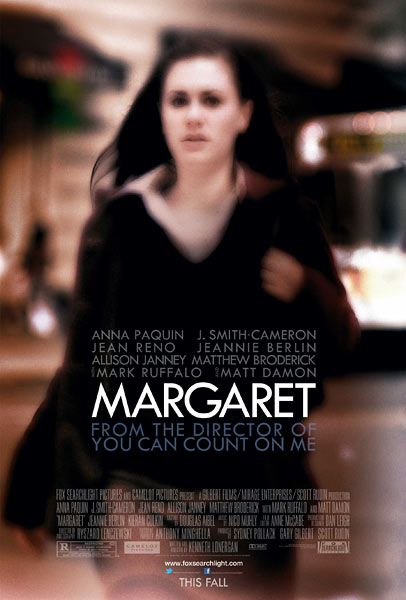 After garnering widespread praise (and an Oscar nomination for screenwriting) for his 2000 directorial debut You Can Count on Me, Kenneth Lonergan was in-demand. In September 2005, the writer/director began production on a follow-up feature: Margaret, which touted Anna Paquin, Matt Damon, Mark Ruffalo, Matthew Broderick, Allison Janney, as well as legendary filmmakers Sydney Pollack and Anthony Minghella (The English Patient) as producers. The movie wrapped production in a few months time. The buzz was already growing.
Now, six years later, the movie is finally hitting theaters. So…what took so long?
The journey to this point hasn't been an easy one and it shows. If a film's shot footage is a block of granite and the editing process is the careful carving that turns it into a statuesque work of art, Margaret feels like it was attacked by a blind man with a jackhammer. The film is a cinematic disaster, a mishmash of shallow characters, overwrought politics and sporadic tones. The story follows Lisa Coen (Paquin) a New York teenager who finds herself drowning in chaos after distracting a bus driver (Ruffalo), causing him to hit and kill a pedestrian (Janney). Initially, Lisa tells the police it was all an accident, but as time passes, regret takes hold and the girl embarks on a mission to take down the man she now regards as a culprit. That's just the tip of the iceberg–along the way, Lisa deals with everyday teen stuff: falling for her geometry teacher (Damon), combating her anxiety-ridden actress mother, losing her virginity, dabbling in drugs, debating 9/11 and the Iraq War, cultivating a relationship with her father in LA, and more. There are about eight seasons of television stuffed into Margaret, but even a two and a half hour run time can't make it all click.
But Margaret is fascinating—thanks, in part, to its complicated past. Some may say that a great film hides its artistry and engrosses you in its story, but the fiction of Margaret runs parallel to its bumpy road to completion. Knowing that the film has been in limbo for half a decade is a tough concept to shake, but in a strange way, it enhances the film. The difficulty of making a poignant drama, the actual crafting of the film, is as ingrained in Margaret as the actual character and thematic narrative.
If this reaction is starting to sound like a wacky Spike Jonze movie, let me elaborate.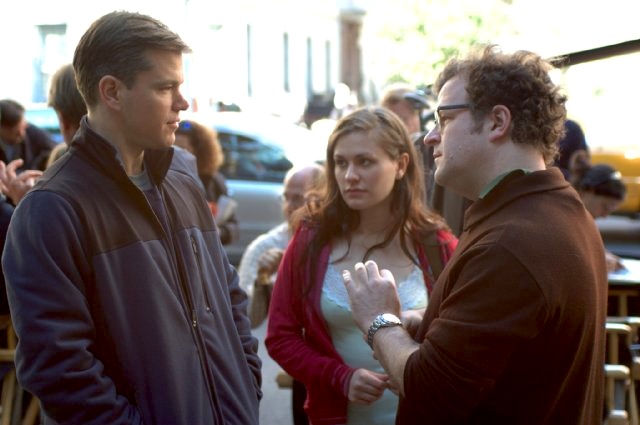 Thanks to a little digging on the part of the LA Times, much of Lonergan's lengthy creative battle is known. At its core, the movie's delay was caused by the filmmaker's inability to cut his own film. An interview with Mark Ruffalo reveals that Margaret was shot using a 168-page script (a normal two hour movie is around 120 pages). Cutting away the fat in order to turn the movie into something releasable became a near impossible task, to the point where Lonergan, the producers and the production companies creative head-butting evolved into an extravagant court battle. Finger-pointing ensued in 2009, while large sums of money were handed back-and-forth between parties. The movie, on the other hand, was seemingly no closer to being finished then four-years prior.
Throughout the business wheeling and dealing, effort was still made to the get the movie made. With no money coming in, Lonergan found financing from another source: his Margaret co-star and friend Matthew Broderick, who gifted the director $1 million to finish the film. Even then, Lonergan couldn't make it work and recent reports state that acclaimed filmmaker Martin Scorsese and his long-time editor Thelma Schoonmaker eventually stepped in to assemble Margaret into something manageable (a version of the film Lonergan has apparently signed off on). Now, Margaret is finally hitting theaters—but declaring it finished seems inappropriate. Is this really Lonergan's intended vision?
Margaret—which takes its name from the Gerard Manley Hopkins poem "Spring and Fall: To a Young Child"—tries to paint adolescence as operatic, using Lisa as a starting point to dissect human nature and society and emotion and…everything. Somewhere, there might be a five-hour version of the movie that plays like the Citizen Kane of modern times, but in its theatrical form, it's a Jackson Pollock painting minus the soul. But like a harrowing news story or a NASCAR race gone wrong, it's hard to look away from Margaret. It's a grand undertaking, but in its tortured final form feels like a more accurate portrait of the making of Margaret. When Lisa screams at her mother or lashes out at her classmates or walks confused along the streets of New York or calls a random boy for instant sexual gratification or wonders why the whole world is all screwed up, I feel like I'm on Lonergan's own filmmaking journey. And occasionally Matt Damon shows up for good measure.
I'm sure Margaret sounded like an amazing idea on paper when Paquin and Damon and the rest of the gang first singed up. I was right there with them—I was jonesing for Margaret when it was first announced, and have spent the last six years dying to see this mysterious epic, in whatever form it has taken while hiding. Now I have, and while it's disappointing to see something fall completely flat, I'm enthralled by the failure. So much blood and sweat goes into making a movie, and never before has it been as evident as in Kenneth Lonergan's Margaret. The drama isn't there, but the artistry is, for better or worse.
="font-style:>