Indie Seen: 'Redline' Sets the Bar for Imagination and Action
Right off the bat, you should watch the trailer for Redline. Brace yourself:
Now, imagine that sensory overload amplified by 100 and stretched out over an hour and a half. That's Redline in a nutshell. The latest film from Takeshi Koike (the guy behind a segment of The Animatrix and the upcoming Iron Man anime) is a twist on the Death Race formula, accelerated and explosive in a way that only animation could allow. The movie takes place in the future, where alien races from across the galaxy pay respects to the past by racing high tech autos along overly-dangerous courses. Our proxy for the event is JP, a scrappy driver attempting to abandon his past of grifting and throwing races for an actual career on in infamous Redline tournaments. The film's story is paper thin, the characters simple and archetypical, but Redline is one of the rare cases where that's just fine. This is about the race, the visceral experience, the brain shattering immersion. It is relentless. It is mind-blowing. It is something special.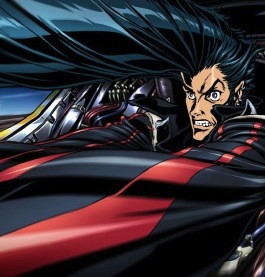 Based on that brief description and your own preferences for Japanese anime, you probably have serious opinions on this film. I certainly did. As a casual devourer of the art form, whose childhood, accidental marathons of Dragonball Z piqued enough interest to stick around for Cowboy Bebop, hunt down popular titles like Ghost in the Shell and develop an affinity for the work of Hayao Miyazaki (Spirited Away), I've never been shy when it comes to giving an anime film a whirl. But I'm cautious—there are lots of movies out there that either don't translate to my American culture-wired brain or delve into worlds I care not to explore.
But reactions from the 2011 Fantastic Fest screening of Redline couldn't be ignored (the rowdy crowd of Austin, Texas doesn't throw around the word "insane" lightly), and after experiencing the movie in all its unfiltered, hand-drawn-LSD-trip glory, I walked away with a new understanding of the possibilities of anime. A revelation of my own cinematic restraints, developed through years of soaking up mainstream, Hollywood movies.
Koike's work is extreme, beyond anything Vin Diesel and crew could concoct for a Fast & Furious flick, beyond the creative world-building of Pixar or Dreamworks, beyond even those who've attempted to emulate anime in live-action or animated work (see: The Wachowski's Speed Racer).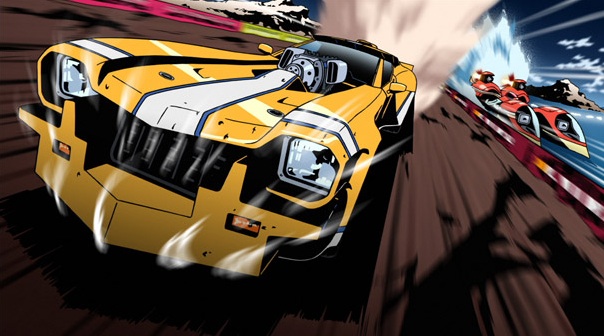 Every frame of Redline, hand-drawn to a meticulous, assumably-painstaking degree, drips with otherworldly imagery. Within minutes of the opening scene, the film's first balls-to-the-wall action sequence full of aliens, vehicles, pulsating techno and impossible physics, one quickly realizes that there would never be a movie made like this in America. There's a creative precipice we approach with our zany blockbusters, one we may not even have known existed. But the imagination divide is there, and Redline proves it.
Filmmakers are doing everything they can to make action movies bigger and badder. IMAX, 3-D, D-BOX motion seats—anything to make the experience larger than life and, theoretically, better. But post-Redline, it seems we're only scratching at the surface of real adrenaline-infused cinema. The movie is a pure vision, born from the fusion of speed and fantasy. Remember those kind of daydreams you'd have while scrawling doodles in the margins of your notebooks waiting for the final school bell to ring? Imagine that on the big screen.