'Innocence of Muslims' Creator Nakoula Basseley Nakoula Arrested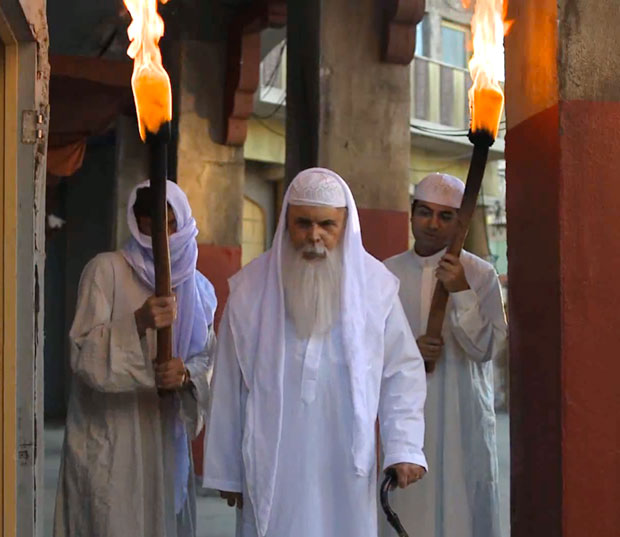 The alleged creator of the highly-controversial YouTube film Innocence of Muslims that spawned several retaliatory efforts overseas, has been arrested. Nakoula Basseley Nakoula (who had several aliases, including the one used for distribution of the video, Sam Bacile) has been named a defendant in the case USA v. Nakoula, 09-cr-00617-CAS in Los Angeles earlier today.
According to Deadline, federal officials have been looking into whether Nakoula violated probation by uploading the 14-minute video onto the Internet earlier this year. In 2009, Nakoula served nearly two years (21 months) in prison for federal bank fraud and an aggravated identity theft charge. If determined that his involvement in the film was a violation of his probation–which barred him from owning or using devices with access to the Internet for five years without prior approval from his probation officer–he could face additional jail time.
For those not fully versed in the controversial clip, Innocence of Muslims' 14 minute trailer debuted in early July of this year. The anti-Islam film directed by "Sam Bacile" and "Alan Roberts" (names now known to be pseudonyms) erupted a worldwide fury when clips were aired on Egyptian television on Sept. 8, 2012. This lead to a voracious spread of anti-American sentiment that resulted in the US embassies in Cairo, Egypt and Benghazi, Libya to be attacked on September 11, 2012. This resulted in several protests, some that may or may not be linked to the deaths of several locals, three US citizens, and an ambassador. Innocence of Muslims portrays the prophet Muhammad (a figure who is forbidden by Islamic traditions to ever be visually depicted) as a blood-hungry killer with inappropriate sexual proclivities.
Nakoula's arrest seems to be an attempt at appeasing those who believe the YouTube video should be removed from the Internet and its filmmaker prosecuted, while also preserving the American people's First Amendment right to freedom of speech. In an address on Tuesday condemning the content of the video, President Barack Obama explained that "The strongest weapon against hateful speech is not repression, it is more speech." The hot-button issue will no doubt continue to be a talking point for weeks to come as tempers flare on both sides of the argument.
[Photo Credit: Sam Bacile]
Follow Alicia on Twitter @alicialutes
More:
Violent Protests Against 'Innocence of Muslims' Prove YouTube's True Power
'Innocence of Muslims' Controversy Continues: Actress Refiles Lawsuit