Man, New York Seems Different in the Latest 'Inside Llewyn Davis' Trailer
In their comedies, dramas, and wherever you'd place Fargo on that spectrum, the Coen Bros have proven masters of imbuing their settings with rich character. In their latest, Inside Llewyn Davis paint an amorously bleak New York City… but not quite the New York City we know. Set in the 1960s, and laden with a folksy poetry you'd only find on the big screen, the New York we see in the trailer might bears some similarities to our Big Apple, but also some striking differences. Here's the rundown:
-In the first scene in the trailer, Llewyn Davis (Oscar Isaac) gets beaten up in a dark alley. Just like real New York.
-At the :22 mark, Llewyn passes a subway stairwell that is clearly marked with easy instructions for all those looking for their train. Not quite like real New York.
-At :25, Llewyn strolls down a dingy, run-down street in the middle of town. Real New York.
-He doesn't have to shove through hordes of people who walk who clearly don't understand that he's in a rush! Not like real New York.
-It's freezing (:29). Real New York.
-At :37, he has no trouble finding a parking spot right outside his building. Not New York.
-At :42 an obstinate bouncer denies Llewyn entry to his desired bar. Real New York.
-At :55, Llewyn enters the subway to find a train arriving at the platform — he doesn't have to wait at all. Not New York.
-People are smiling on the train (1:00). Also not New York.
-At 1:45, we see Llewyn's luxuriously spacious apartment. Once again, not New York.
-But to round it out with a bit of authentic New York flavor, just about everyone in the trailer seems a little bit pissed off.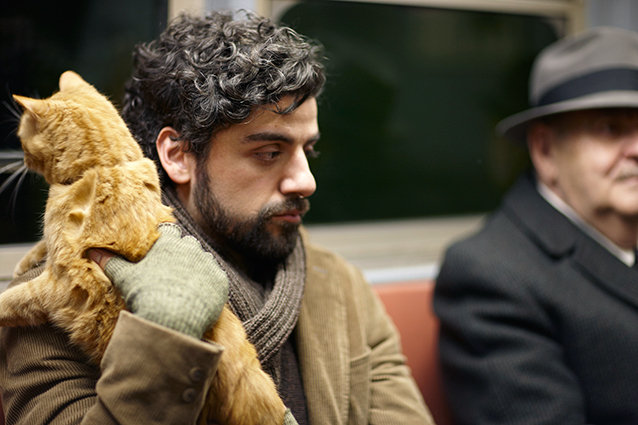 Catch the Coens' next film in theaters Dec. 6!
Follow Michael Arbeiter on Twitter @MichaelArbeiter | Follow hollywood.com on Twitter @hollywood_com
More:
6 Reasons 'Llewyn Davis' Is Quintessential Coen Bros
Listen to 'Inside Llewyn Davis' Soundtrack
The Coen Bros Rewrite Jolie's WWiI Movie
---
From Our Partners


Stars Pose Naked for 'Allure' (Celebuzz)


20 Grisliest TV Deaths of 2012-2013 (Vulture)