'Insidious 2': Patrick Wilson and Rose Byrne Apparently Not Dead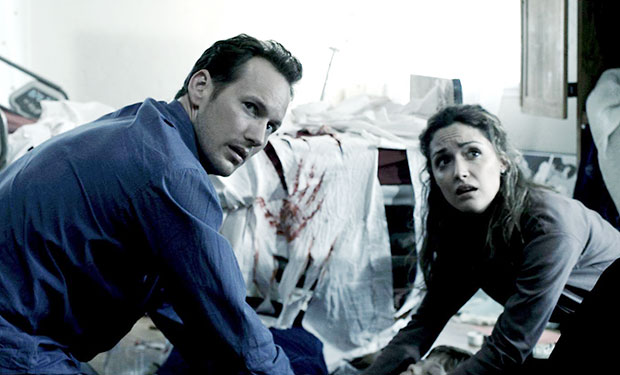 Good news for fellow fans of Insidious — production on the 2010 hit's sequel is set to begin on January 15, for an August 30, 2013 release. And while we're certainly not surprised that a cheap, successful horror flick is getting a sequel, we're perplexed by some of the names on its roster: The Hollywood Reporter confirmed that Patrick Wilson, Rose Byrne, Lin Shaye, and Ty Simpkins are all set to reprise their roles. Wait — what? [This is the point where, if you haven't seen Insidious yet and want to, you might want to stop reading. Spoilers abound.)
PHOTOS: 10 Terrifying Paranormal Characters Who Are Normally Attractive
Okay. So at the end of Insidious, Wilson's character came back from the far beyond possessed by the spirit of a scary old lady demon, and he most definitely strangled Elise (Shaye) to death. His wife and formerly comatose son (Byrne and Simpkins) were about ten feet away, so the common assumption is (was) that all four of them were f***ed. So, unless they appear only in flashbacks — which is unlikely — they all made it out alive.
This has me a bit worried. Part of what made the first Insidious so great (besides the clever plot) was seeing an actually scary version of the classic suspenseful haunted house story come alive, with modern twists. Insidious didn't rely on heavy gore (Saw, Texas Chainsaw, everything else) or the currently tired trope of fear what you don't see (Paranormal Activity franchise) to scare its audience — it came up with a seriously scary idea and nightmarish creatures like that old lady, and had them jumping out at every corner. Ah!
PHOTOS: 16 Best Horror Movies of the Past Decade 
If Insidious 2 picks up where it left off — presumably, with a family on the run from or trying to save its Daddy Demon — we won't experience the slow burning tension that added so much to the visceral effect of the first one. And if Shaye lived through that strangling… well, that's just cheap. We've met the family's demons, we know the twist — what's left to explore? Of course, I'm hoping that the James Wan and screenwriter Leigh Whannell prove me wrong, but my gut feeling here is that I'd rather explore a whole new house and family, with a different insidious terror lurking in the background. Hey, it worked for American Horror Story. Follow Shaunna on Twitter @HWShaunna [Photo Credit: FilmDistrict] MORE: Patrick Wilson to Guest Star on 'Girls' 'Insidious' Sequel in the Works 'Bridesmaids' Stars: What's Next?
From Our Partners:

'Twilight' Marathon: Watching All 5 Movies With a Group of Twi-Hards (Moviefone)

Most Ridiculous Movie Plot Twists Ever (Moviefone)